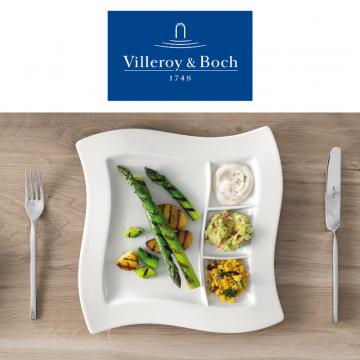 Villeroy & Boch porcelain, glass, cutlery
Villeroy & Boch is one of the most important international premium brands for tableware and is represented in over 125 countries. The company, headquartered in Mettlach, Germany, was founded in 1748. Since then, the products from the house Villeroy & Boch stand for values ​​such as tradition, innovation, and quality. The origin of Villeroy & Boch lies in the production of ceramics and porcelain. The long experience with this material is reflected in the high-quality harness collections, which impress with their beauty and functionality at the same time. Selected series are made from premium bone porcelain, arguably the noblest of all-porcelain types: this fine, cream-white material delights with its exceptionally brilliant shine and high impact and edge resistance.
Plates and cups in modern country style
Tableware, glasses, and cutlery from Villeroy & Boch are associated worldwide with the enjoyment of food and drinks. The company designs and shapes the respective style direction with its products. The "V&B country look", an individual, modern country house style, has become typical for the brand. The design and decors are en vogue. You will find a large selection of Villeroy & Boch articles and services here at Porzellantreff: coffee service, dinner service, table service, tea service, complete service, and tableware sets. All branded goods from I.Wahl at low prices.
% Villeroy & Boch discontinued | remaining stock

Also porcelain is can be a victim of the fashion. Each year also the collection of the manufacturer Villeroy & Boch changes. New series are getting born and old ones die. After discontinuation or...

Villeroy & Boch Christmas Collections

Christmas - is the best time of the year. When the first candle on the Advent wreath is lit weeks before Christmas Eve and the first little door in the Advent calendar can be opened, then the time has...

Since its founding in 1748, Villeroy & Boch has developed into THE international lifestyle brand for tableware and home decor.Cooking together with friends, cozy dining with the family, little...

Villeroy & Boch Easter Decoration

Villeroy & Boch Easter collections combine Easter tradition with exceptional design and the highest quality standards. Easter tableware from the Villeroy & Boch brand impresses with brilliant,...

As a ceramics and porcelain manufacturer, Villeroy & Boch can look back on a long and successful history. Since 1843, the manufacture of high-quality glassware has also been part of the competence...

Villeroy & Boch Porcelain

Since its founding in 1748, Villeroy & Boch has developed into a world-renowned lifestyle brand. The company stands for attributes such as quality, tradition and innovation with its products from...

like. by Villeroy & Boch Color Loop

A friendly tableware - that is »like. by Villeroy & Boch Color Loop«. The collection gets its natural and understated charm from the soft shades Stone (gray), Horizon (blue), and...

like. by Villeroy & Boch Crafted

The »Crafted« collection from the brand like. by Villeroy & Boch presents itself in a trendy pottery look. The designers of the series were inspired by traditional pottery....