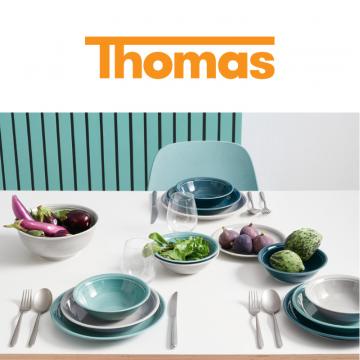 Thomas Porzellan
The Thomas Porzellan brand stands for joie de vivre, for the fun of cooking, eating, and enjoying together. Under this credo, Thomas presents a multifaceted selection of products for the kitchen and the laid table that combine functionality and design in equal measure.
Thomas is THE porcelain brand for well-designed and uncomplicated tableware for everyday use. In cooperation with various design offices, collections were created whose popularity results from the pleasing design, practical versatility, and durability. Thomas series impresses with its timeless look. They are above all short-lived fashions, suitable for any situation and occasion, and are thus aimed at a large fan and customer base.
Thomas is synonymous with high-quality porcelain »Made in Germany«. The brand's long-standing success story is underpinned by popular bestsellers such as »Thomas Trend«, »Thomas Loft« and »Thomas Sunny Day« - collections that stand for the company's high-quality standards and the label's innovative strength. Thomas Porzellan always keeps its finger on the pulse of time in order to integrate current design and material trends into its own range. In this way, the brand consistently combines suitability for everyday use, multifunctionality, and lifestyle.
Today, Thomas Porcelain is internationally regarded as an essential brand for contemporary and uncomplicated household tableware. At the beginning of the 1980s, the British design studio Queensberry Hunt designed the »Thomas Trend« series and ensured overwhelming sales success. This product still enjoys great popularity today and, along with »Thomas Sunny Day« has proven to be one of the top sellers on the German market.
In 1996, the »Thomas Sunny Day« and »Thomas Vario« collections were added, which also quickly became a sales hit. The »Thomas Sunny Day« series in particular has established itself as a bestseller in Germany with its diverse range of colors and high suitability for everyday use.
The »Thomas Amici Pasta Plate« is THE original when it comes to pasta plates. Since its market launch in 1998, this multifunctional plate has already been sold millions of times. The »Thomas Loft« collection, launched in 2001, is also one of the brand's successful collections and has received great international recognition.
In 2016, the innovative series »Thomas ONO« was introduced, shortly thereafter receiving the internationally significant design award »Green Product Award«.
Since 2021, »Thomas Nature« and »Thomas Clay« have been part of the brand's product family. The high-quality stoneware in the handmade look of the two series is all about naturalness and closeness to nature. Both collections impress with their authentic handcrafted look and matching feel.
Through collaboration with various design studios, the Thomas brand remains consistently innovative and has been able to develop a diverse range of products over the years, spanning from porcelain to stoneware. Thomas Porcelain is THE choice for every occasion and taste.