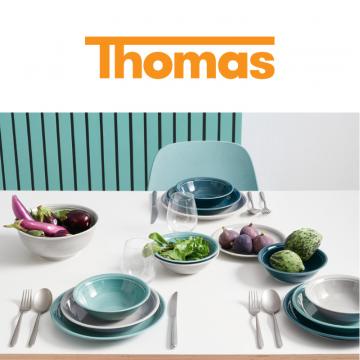 Thomas Porcelain - fresh in form
Thomas Porcelain produces since decades high quality porcelain for everyday use. Porcelains of Thomas belong to the Rosenthal Group, the German traditional company with a worldwide reputation. The crockery impresses with its modern and wonderfully fresh colors and shapes.
Tableware by Thomas combines unusual shapes with functionality. In addition to classic white are also several green-red or blue shades.
The manufacturer also offers a glass, an espresso and a gratin series. Thomas tableware provides plates, cups and bowls in many sizes. In most collections are creamers, jugs and small dishes included. This allows you to use Thomas Porcelain not only for breakfast but also for all other meals of the day.
Thomas Porcelain offers guaranteed the right crockery for everybody - the extensive product range makes it possible
Treat your family or friends with culinary delicacies and serve it with Thomas Porcelain again and again. Because everybody knows the eye eats with. At Thomas Porcelain ensure pasta plates in different sizes that noodles in any size can be served visually appealing. After a delicious pasta dish a latte macchiato – with the right cups of Thomas Porcelain tastes these simply great and it completes the Italian evening accordingly.
Thomas Sunny Day – this is how the day begins much cheerful and brings a smile on the tired faces of your family. The fresh colors provides lots of good mood and the variety of forms of Thomas Porcelain leaves in terms of taste preferences no wishes unfulfilled. With the Thomas Cup ° mugs is already the morning coffee an experience. Cereals, fresh fruits and healthy salad tastes irresistible good from the colorful bowls and dishes of Thomas Porcelain. And breakfast in bed becomes on wooden trays by Thomas a special moment.
Thomas crockery offers much more: Already at the preparation of meals helps Thomas with the appropriate accessories: Kitchen apron, potholders and dish towels facilitate the work and the fresh colors fit in any kitchen. Use for your Thomas crockery the matching cutlery, because this offers Thomas too. And if you have your office at home - Office Sets in beautiful colors allow a creative break in between.