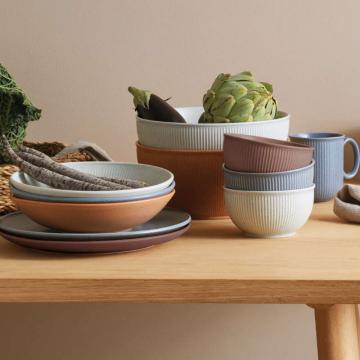 Thomas »Clay«
The Thomas »Clay« collection is all about »100% natural«. Because »Clay« is natural through and through - from the material to the glaze to the colour. The nature-inspired colors Earth, Rust, Sky, Rock, and Smoke get their very own look thanks to the matt, structured surface. The crockery made of high-quality stoneware looks authentic and »handmade«, reminiscent of traditional earthenware. The fine relief of the article is based on a mussel shell. It gives »Clay« a striking look and at the same time a pleasant feel.
Stoneware from the Thomas brand is a purely natural product. The color glazes used are also based on pure natural pigments without chemical additives. The speckled effect is achieved by small inclusions of iron and enhances the natural appearance of Thomas »Clay«. Each piece is unique because it is painstakingly glazed by hand. The glaze application can therefore differ slightly from item to item. This difference is intentional and a feature of the craftsmanship of the series.
»Earth« - this warm clay in brown is inspired by the color of Mediterranean soils. It radiates naturalness and security. »Rust«, is a rich reddish brown that is reminiscent of the brick red of bricks and clinker. The grey-blue, cool color »Sky« contrasts with the warm brown tones. The two shades of gray create a pleasant balance: »Rock«, a light, natural pebble gray tone, and »Smoke«, a noble stone grey. Neutral and balancing, they combine the clay colors into a harmonious whole.
Quality reference
microwave-compatible
dishwasher-safe
Items 1 to 60 of 65 total