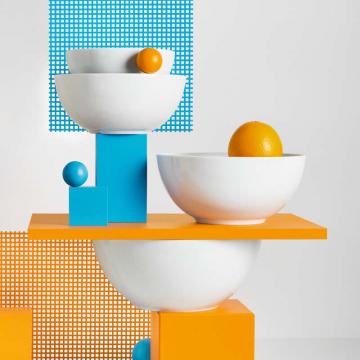 Thomas »Daily« Bowls
The porcelain bowls »Daily« from Thomas are true multi-talents. They are used in the kitchen and on the set table, and they look particularly attractive when you combine different sizes and colors with each other. The »Daily« bowls are available in the colors Ice Blue, Night Blue, Moss Green, and Moon Gray as well as in white. The small bowls are suitable as XL cereal bowls, dessert bowls for fruit salad, side dish bowls, and salad & soup bowls. These bowls are also ideal for serving pasta and one-pot dishes in portions. The large-capacity bowls can be used for salads, fruit, side dishes such as pasta or rice, or even sliced bread for lunch and dinner together.
The four different sizes with diameters of 18 cm, 21 cm, 24 cm, and 28 cm are used in the kitchen when cooking and preparing as mixing bowls and kneading bowls for sweet or savory dough - for dumplings, cakes, biscuits, cookies, bread, pizza and much more. These robust porcelain bowls are also the right kitchen aids for mixing marinade and vinaigrette, for egg dishes, creams, and puddings. The practical Thomas »Daily« bowls are also microwaveable and dishwasher safe.
Quality reference
microwave-compatible
dishwasher-safe