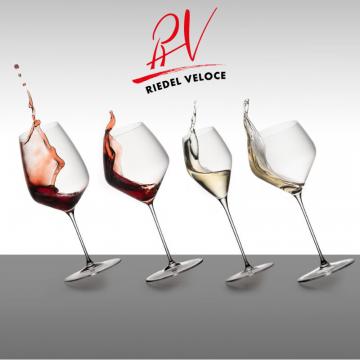 Riedel »Veloce«
The Riedel »Veloce« glass series impressively demonstrates that machine-made glasses need not be inferior to handcrafted glasses when it comes to quality criteria such as shape and feel. Riedel's many years of experience in mechanized glass production and state-of-the-art manufacturing processes make the production of glasses like »Veloce« possible.
The glasses in this collection impress with their lightweight and graceful silhouette. Large goblet shapes on a thin stem with a generously sized base give these glasses a contemporary yet chic look. As with all Riedel glasses, the design of each glass is matched to the characteristics of each grape variety. On the subject of grape variety - wine newcomers will find this feature particularly interesting: On the bottom of the »Veloce« glasses, there is a discreet indication for which wine which Riedel glass is best suited. This makes choosing the right wine glass particularly easy for newcomers.
The Riedel »Veloce« series includes the following glasses: Sauvignon Blanc, Riesling, Chardonnay, Rosé, Cabernet Sauvignon, Syrah / Shiraz, Pinot Noir / Nebbiolo, a champagne glass, and a water glass. The water glass is also suitable in shape and size for spirits »on the rocks«. Despite the filigree design, these modern glasses are suitable for everyday use and are dishwasher safe.
The »Veloce« glasses are each available in a set of 2 in a stylish black gift box.
Quality reference
dishwasher-safe