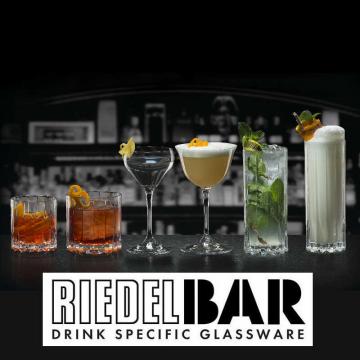 Riedel Glasserie Drink Specific Glassware
As always innovative and leading in functional design: This is how the new drinking glass series Riedel Drink Specific Glassware presents itself, which was created in cooperation with the American Zane Harris. Harris is a professional bartender and scene connoisseur, bar designer, and architect. He is well known in hip cocktail venues like Dutch Kills, Maison Premiere, and Rob Roy.
The design of this new glass series is based on the high standards that are set in sophisticated restaurants and bars to cocktail glasses. The Riedel Drink Specific Glassware collection contains only a few basic glasses - with this selection you can serve almost all popular cocktails.
Together with Riedel Harris developed the individual design for each individual glass. He attached particular importance to the respective size, shape, and volume. Also important is the optimal capacity of the glass for ice cubes or crushed ice. Riedel Drink Specific Glassware is a real innovation - No glass manufacturer has ever approached such a concept so holistically.
Quality reference
dishwasher-safe