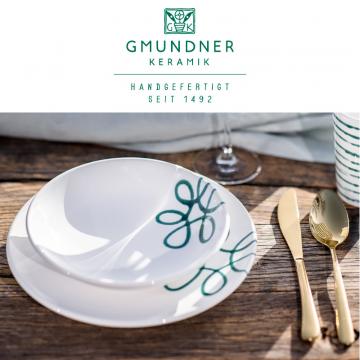 Gmundner Keramik a refined table culture
The Gmundner ceramic manufactory stands for high quality from a long tradition. For more than 300 years, the company has been lovingly handcrafting valuable ceramic products. Each piece is a special one-of-a-kind and impresses with the highest level of pottery art. The products are presented in beautiful designs with great attention to detail. Gmundner Ceramics lives and breathes cultivated table culture and has dedicated itself to special color themes.
Gmundner ceramics are robust, dishwasher, and microwave safe. With the right tablecloth, glasses, and cutlery, your table is perfectly set.
From breakfast to lunch to snack
Dinner service, coffee, or tea service can be beautifully combined with each other and form a visually harmonious unit. With attractive accessories, such as decorative serving platters, pretty bowls, vases, or tea lights, you can set atmospheric accents. The ceramic tableware, carefully manufactured in traditional handwork, meets modern requirements.
Whether for everyday use or for festive occasions: With stylish Gmundner ceramics you are well equipped. This high-quality ceramic tableware is ideal for your perfectly set table. Emphasize your individual style and choose your personal model. The attractive ceramic tableware is available in different colors and designs. The noble products are presented in the characteristic colors grey, green, and red as well as multicolored. From classic stripes, rustic traditional motifs, and subtle scattered flower patterns to modern design - the well-thought-out collection is extensive and diverse.
Put together your own dinner service and choose between round or square, deep or flat plates. In addition, there are special serving plates and pretty bowls in various sizes and shapes. The generously designed soup pot is a tasteful highlight on the lunch table. You can choose from a variety of cups and mugs for your coffee or tea service. Complete your individual service with beautiful individual pieces. Milk jugs, sugar or butter bowls, egg cups, and salt and pepper shakers should not be missing from any breakfast table. And with decorative vases, atmospheric tealights, and elegant candlesticks you create an inviting atmosphere.