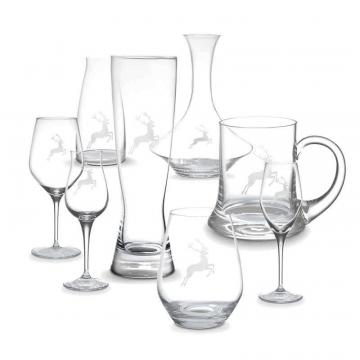 Gmundner ceramic deer / glasses by Spiegelau
The motif Hirsch at Gmundner Keramik stands for tradition and craftsmanship. The deer used to be a classic country house decor, but it has long since conquered the hearts of the young savages.
It feels just as at home in the rustic country ambience as in a gorgeous, renovated historic building with high, elaborately decorated ceilings or in an ultra-modern loft.
Very individual - like his fans who love him.
Matching the ceramic decors in different colors, the Hirsch motif is now presented on the high-quality drinking glasses of the Spiegelau brand:
The collection includes champagne and champagne glasses, red and white wine glasses, beer glasses, a shot glass, a glass of water and a decanter for water or juice.
Crystal glasses from the Spiegelau brand impress with their contemporary, functional design and their practical features: they are suitable for everyday use, being dishwasher-safe, stable and unbreakable.
Quality reference
dishwasher-safe