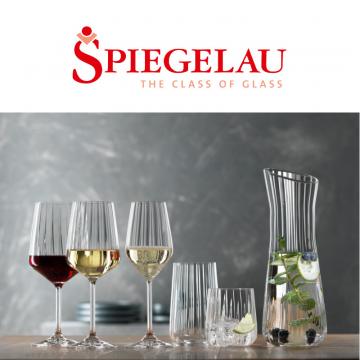 Spiegelau glasses | Clear crystal and high brilliance
The Spiegelau brand looks back on a long tradition in glass production. The glass manufacturing was first mentioned in the 16th century. It has been known for over five hundred years for high-quality drinking glasses made of fine crystal glass. The Spiegelau brand has been part of the Riedel Glass Works company since 2004, which also includes the Nachtmann brands. The glassmakers combine traditional Bavarian craftsmanship with innovative, advanced techniques. This is how drinking glasses are created that impress with their optics and at the same time convince with their attributes for use.
For Spiegelau gastronomy is as well a large field of great competence. This places high demands on the quality and longevity of glasses, and at the same time on form and function. Aesthetic and simultaneously functional design plays a major role here. The glass brand has established itself and made a name for itself not only among wine connoisseurs but also in the relatively young craft beer scene. Here in demand are glasses that bring out the special properties of the respective drink particularly well and also look good. This know-how flows into the development of all series and ensures that you will enjoy your Spiegelau glass for a long time at home.
Spiegelau glasses are characterized by a high level of brilliance but at the same time robust and therefore perfect for everyday use: the glass collections are almost unbreakable and dishwasher suitable.
Spiegelau glasses have style
Spiegelau glasses are available in different thicknesses - thin, thick and finely structured. The unique glasses provide the right setting for important events such as weddings, anniversaries or birthdays.Your guests will remember for a long time the beauty and class of the Spiegelau glasses. With Spiegelau glasses you show and reveal a stylish taste and create a special atmosphere in your home.
Uncomplicated to use and easy to store - glasses from Spiegelau can be wonderfully admired all year round. For spring choose happy and colored glasses. During Christmas season, the noble glasses provide an additional ambience at your family celebration.
You will be amazed by the variety of different Spiegelau glasses The extensive range of glasses offers the right container for every drink. In addition to wine glasses, champagne glasses and beer glasses, you will find water glasses, juice cups and various glasses for bar supplies. What unites all glasses is the beautiful design and the excellent quality.
Spiegelau is not only a manufacturer of high-quality drinking glasses, but also offers a selection of different carafes and decanters. Spiegelau decanters are a must-have for every wine enthusiast. Enjoy your favorite glass of wine from one of the elegant beautiful-shaped and extravagant carafes from Spiegelau.