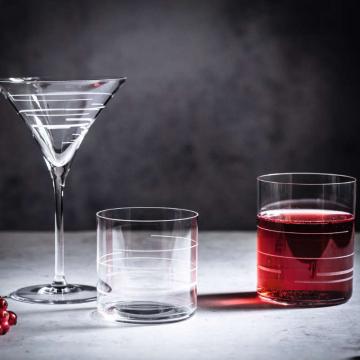 Spiegelau »Signature Drinks«
The »Signature Drinks« collection from Spiegelau deliberately sets itself apart from the usual heavy and massive bar glasses: The »Signature Drinks« tumblers and cocktail glasses have a filigree design and surprise with their thin wall thicknesses and lightweight. This gives the glasses a feminine aesthetic and a modern elegance. Despite its graceful design, this series also features the increased break resistance typical of Spiegelau glass. The expression of lightness is accentuated by two delicate decors: »Circles« and »Lines«. Both decor variants are engraved in the glass and are therefore dishwasher safe.
These glasses come in two different sizes and also as cocktail glasses. The smaller soft drink glass holds 330 ml and is simply shaped like a classic tumbler. It is suitable for all non-alcoholic drinks such as water and iced tea, and due to its size also for alcoholic beverages "on the rocks". The larger whiskey tumbler with 430 ml capacity corresponds to a D.O.F. tumbler - it can be used to serve numerous short and long drinks on ice. The cocktail glass has the shape of a typical martini cup and is also called a Y-shaped glass. Its shape and pleasant size of 220 ml make this glass perfect for martinis and a variety of cocktail classics such as the Cosmopolitan, Gimlet, or a Sidecar. Soft drink tumbler, whiskey tumbler, and cocktail glasses from the »Signature Drinks« series are offered as a set of 2 in an attractive gift box.
Quality reference
dishwasher-safe