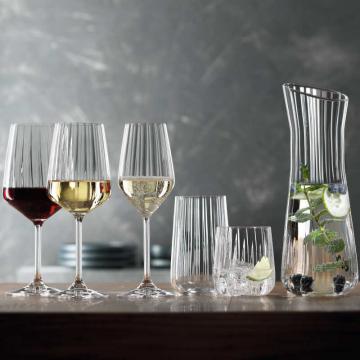 Spiegelau »LifeStyle«
The »LifeStyle« collection from the Spiegelau brand is an uncomplicated, modern short series. It includes wine glasses for red and white wine, a champagne glass, long drink glasses, tumblers, and a carafe. The items are multifunctional: the champagne glass is also suitable for sparkling wine, prosecco, and spritz drinks. The long drink glasses can be used to serve juices, juice spritzers, and cocktails - with or without alcohol. The tumblers are handy water glasses, and in combination with the carafe become a set for iced tea or homemade herbal lemonade. Thus, the carafe with a capacity of 1.0 liters has an extra-wide neck. Here, ice cubes and pieces of fruit can be filled very practically. As if made for trendy summer mixed drinks such as an original Pimm's: slices of fresh cucumbers, lemons and oranges, and mint leaves fit well through the wide collar and can be removed just as easily after consumption.
The Spiegelau »LifeStyle« collection impresses with their everyday suitability and stylish appearance: The elegant diamond shape of the crystal glasses is underlined by a line-shaped relief. The light refracts in these structures and provides sparkling optical accents.
All drinking glasses of the series »LifeStyle« are each available in a set of 4 with a discount. Also a nice gift idea and a great souvenir for invitations. Conveniently packaged in a box of four.
Quality reference
dishwasher-safe