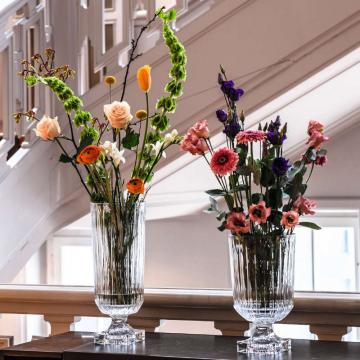 Nachtmann »Minerva«
The »Minerva« crystal vases from Nachtmann impress with their stately size and imposing appearance. With these voluminous glass vases, extra-large bouquets and long-stemmed flowers are given the right setting and an effective appearance. Thanks to the high weight and their massive base, the vases have a firm stand and are suitable for the presentation of even lush flower arrangements. Particularly in open, sparsely furnished rooms such as entrance areas, foyers, and staircases, the »Minerva« vases come into their own perfectly as tasteful interior objects thanks to their eye-catching presence.
The vases made of high-quality crystal glass are available in two different sizes: A smaller, wide vase with a height of 32 cm and a diameter of 18 cm, and a tall, slender vase with a height of 40 cm and a diameter of 16 cm. The low glass vase can also be used perfectly as a noble bottle cooler. Both vases are offered in an attractive presentation box and are thus suitable as a stylish, high-value gift idea.
In addition to the series in clear glass, the Nachtmann »Minerva« vase collection is available in an extravagant »Limited Edition« in two different versions: The version with a base in gold or platinum adds a touch of glamour to the crystal vases. Pure luxury, that is the premium version completely in precious metal, optionally in gold or platinum. This exclusive edition is only custom-made by Nachtmann.