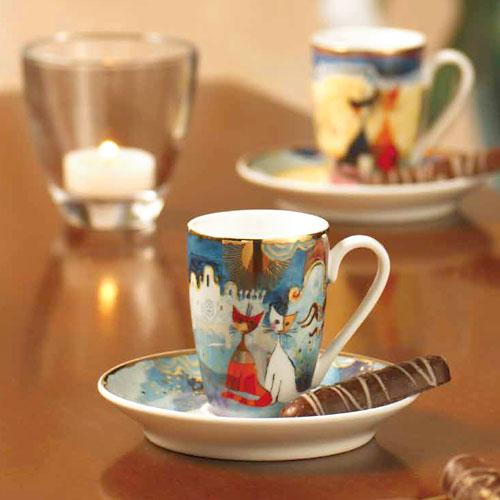 Rosina Wachtmeister Colorati
The unique porcelain series Colorati is just the right thing for cat lovers. The porcelain is provided with hand-painted cat motifs. The espresso cups are made in a limited edition of 4999 pieces. These are delivered in a gift box and are therefore particularly well to give away. The 3-piece place settings are suitable not only for breakfast and coffee, they are also used as decoration in a showcase as real eye-catcher! To preserve the color fidelity, we recommend cleaning by hand.
Complete your Rosina Wachtmeister Colorati porcelain with matching cutlery, glasses and table linen!
Redeem this voucher code* MH2T1 (worth 5 euros) — by purchasing your Goebel items and save up to 10%!
* The voucher code is valid through February 01, 2019 with a minimum order value of 99,- euros after deduction of returns and cancellations. A partial redemption or cash alternative is not available. Can not be combined with other coupon codes or vouchers.