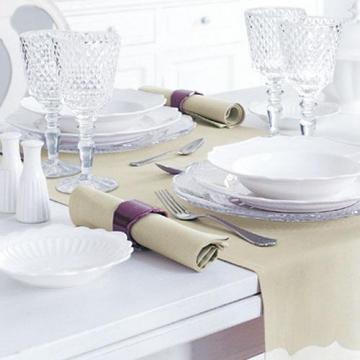 Table linen - table linens & napkins make every table special
The online shop offers cheap elegant home textiles as table linen, dishtowels, aprons, pillows tablechloths and napkins. Different manufacturers like Garnier Thiebaut, Gien, Villeroy & Boch and Arzberg are offering a great collection. A colorful table linen, matching your tableware or a single-coloured table linen made of Cotton (damask) will make every table beeing special. Your eyes will watch to your hearts desire on the collection having been manufactured in expensive work of the Jaquard technique!
Complete your table linen & napkins with matching drinking glasses, porcelain, ceramics or cutlery sets!
Napkin rings make the appearence of a laid table perfect. They can set color accents and keep back neutrally. We offer several napkin rings made of different materials in different colors and styles....

No matter whether festive covered or rustic buffet: On a lovely decorated table, everyone is glad. And there is nothing better to draw attention to your porcelain than the matching paper napkin. We...

Set accents with a stylish and subtle Placemats. The table sets made of wool felt from Hey-Sign consists of 100% pure virgin wool without added chemicals or recycled textiles, which is documented by...

Sambonet Linea Q Table Sets

You can find noble placemats in different colors within the collections of the Linea Q table sets of Sambonet. The great selection of different patterns and colors offers an indefinite number of...

The Arzberg Fabrics table runners fit perfectly with colorful porcelain. The table runners are washable at 60 °C. However, you should use a color detergent. Made of 100% cotton and woven in a...
Cannot add the item to shopping cart.