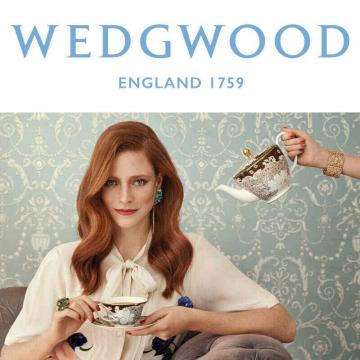 Classical English porcelain from Wedgwood
Since 1759, high-quality Wedgwood porcelain has adorned the finest tables around the world. The founder Josiah Wedgwood achieved world fame during his lifetime through his innovations in porcelain production. He succeeded in changing the creamware developed in the 18th century so that it acquired a bluish-white color. This shade corresponded to the taste of the time and even inspired the Queen. She adored this china so much that it has since been referred to as "Queens Ware". With fine Wedgwood porcelain, you ennoble every table and turn your meals into a banquet.
It goes without saying that we will deliver your Wedgwood tableware to you in the best quality.
With the noble Wedgwood porcelain you will definitely turn your regular meal into a fashionable dinner. Make sure to find the suitable cutlery sets!
Wedgwood tableware - classic English design
Wedgewood's high-quality standards are reflected in every single ceramic and porcelain product. The different series of this traditional company convinces with classic design and modern accents. Flawlessly white or colorfully decorated, Wedgewood offers the right tableware for every taste.
With the Queen's Plain series, Wedgwood revives a classic. Manufactured true to the original design by Josiah Wedgwood, this porcelain impresses with its high level of craftsmanship. With the famous "Queens Ware" you can give your guests a royal welcome. This porcelain radiates pure elegance with its elegant flower pattern and light cream tone.
The Wedgwood Nature porcelain series is just as elegant and reserved. The nature-inspired patterns characterize your table with the delicate touch of spring. You can also experience naturalness with the Wedgwood Jasper Conran Chinoiserie in white or green. Artistic tendrils of flowers, butterflies, and birds adorn the design of this porcelain series. Transform your table into a blooming garden with the Wedgwood Jasper Conran Chinoiserie.
You will look in vain for caution in the Wedgwood porcelain series Cornucopia. The lavish midnight blue design evokes the lavish splendor of the mythological cornucopia. Like this, Cornucopia porcelain is full of possibilities and forms the decorative crowning glory of every table.
Wedgwood tableware not only offers upscale enjoyment but also stylishly colorful joie de vivre. The individually designed Wedgewood Harlequin teacups and saucers bring the spring sunshine to your coffee table. Let yourself be inspired by this young Wedgewood porcelain made from the finest bone china.