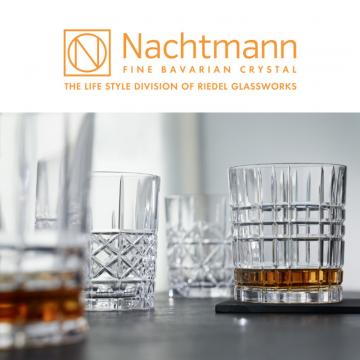 Nachtmann | Finest Bavarian Crystal Glasses
Crystal glasses from Nachtmann convince with their brilliance and high quality. The rich assortment of the traditional glass brand includes drinking glasses, plates, bowls, vases, and a gift collection. Since 2004, the Nachtmann brand has been part of the Riedel Glass Works company, which also includes the Spiegelau and Riedel brands.
Nachtmann glasses bring a touch of luxury to any table. For almost 200 years, the name Nachtmann has stood for classic glass design, for glasses with a cut, and for extraordinary glass accessories such as opulent candlesticks and stylish etagères. One of the best-known and most popular series is »Noblesse«. The whisky tumblers with the characteristic cut decoration are typical for the brand manufacturer. »Bossa Nova« is the collection for the tastefully set table: here you will find bowls in various shapes and sizes, glass plates, round and square plates, and much more. Modern design lines are also part of Nachtmann's expertise, as the »ViNova« wine glasses prove. If you are rather looking for a specific glass shape, our product search on the left will help you. Here, for example, you can view all long drink glasses - the multi-part glass sets are particularly in demand and are often offered at an attractive special price.
Designer collections »NextGen«
The traditional brand Nachtmann also breaks new ground when it comes to product design. Nachtmann is always looking for talented glass designers who are passionate about their job. This search always leads Nachtmann out of his own design studios and into leading art schools around the world, such as New York, Tokyo, Stockholm, Prague, and Beijing. Nachtmann regularly organizes design competitions there and then brings the promising design concepts onto the market under the program name »NextGen«. This designer line stands for innovative collections from the Nachtmann brand, which was brought to life by an international, young, and particularly creative generation of designers.
Technical perfection meets new ideas - this is how the next generation of modern classics made of crystal glass is created. Be inspired by these imaginative new creations! These include, for example, the »Sculpture« series available in the online shop and also »Punk«, the barware series by up-and-coming designer Anke Buchmann. "I rebelled against the establishment by designing a glass collection like »Punk«, in which stylized rivets protrude, even burst out of the surface. I was celebrating the 40th anniversary of the punk movement and the mutual inspiration of punk and luxury," says Buchmann.