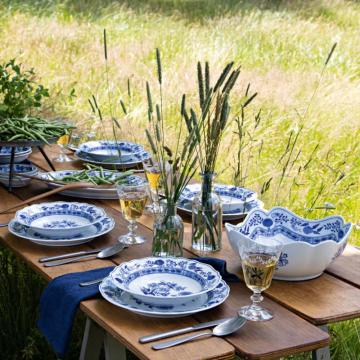 Hutschenreuther Blue Onion - classically beautiful
The Blue Onion pattern is the most famous porcelain decor of all time. It was created during the early Ming Dynasty in ancient China. In the 17th Century adopted the Meissen porcelain manufactory the décor and let it apply to his white porcelain. Primarily thanks to the Onion pattern became the Meissen porcelain famous in Europe at that time. Later, many other porcelain manufacturers assumed the beautiful blue pattern.
Even Hutschenreuther let the decor apply on its fine porcelain pieces. This provides you today a wide range of Hutschenreuther Blue Onion. Complete it as desired, because the Blue Onion crockery is suitable for many occasions. This can be an elegant dinner with friends, the summer party in the garden or tea at home.