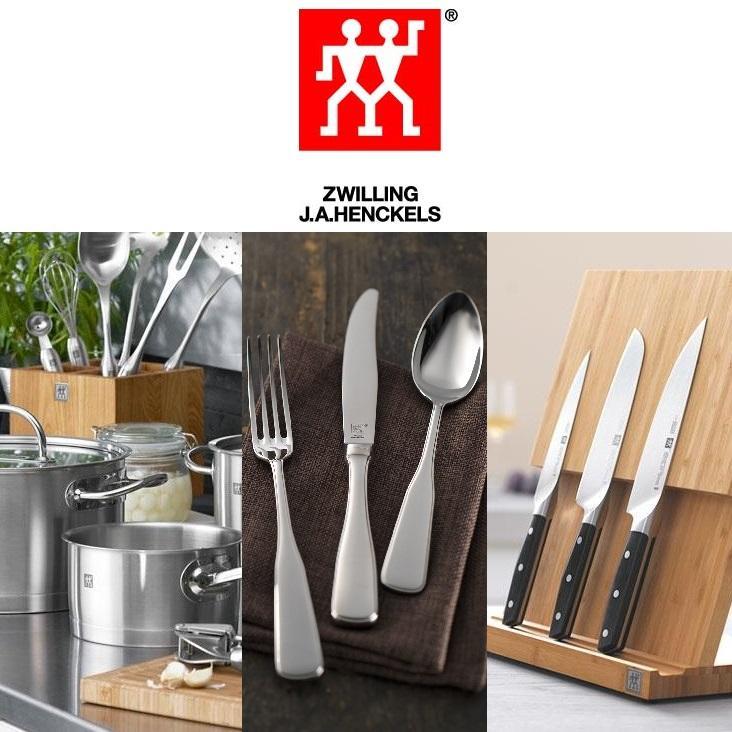 Zwilling offers knives in highest quality
The first step towards the perfect meal is the right choice of the knife. Because with a high quality and matching knife are the ingredients perfectly prepared. Regardless of whether you are cutting vegetables or meat. A wide selection of perfect kitchen knives and special knives offers the brand Zwilling. Since 265 years produces the company knives in the highest quality. The results are not only an internationally high degree of reputation but also great experience in the production of branded goods.
The product range of the manufacturer includes a wide selection of different Zwilling knives. Special knives for chopping of different vegetables can be found in the offer as well filleting knives or special knives for Asian cuisine. The assortment is enhanced by quality cookware and attractive Sommelier sets.
The right knife from Zwilling for each activity
The most important feature of a knife is a sharp blade and the adapted form. This is the reason for the large number of different blade shapes. The paring knife has a slightly inwards curved blade. The round shape of the blade adapts better the form of vegetables and fruits. The vegetable knife is a handy knife with a straight blade to chop vegetables quickly and effectively. For cutting meat or carving a roast you can use a Zwilling knife with a long and straight blade. This special blade cuts through meat fibers gently without squeezing them and fraying out. A special type of knife is the Santoku knife from the Asian cuisine with a long, wide blade for the various steps of food preparation. You get for every purpose the perfectly matched Zwilling knife.
Various series for individual demands
The brand Zwilling offers an attractive selection of different knife series. The series Twin Pollux is the perfect starter series into the world of high-quality knives. Friends of the noble design opt for a knife of series Cuisine. A perfect synthesis of a modern knife and traditional full tang knife with new cutting technology. The knives of the Twin Select series convince with ergonomically designed stainless steel handles. Which Zwilling knife you choose depends on your individual needs and personal taste.