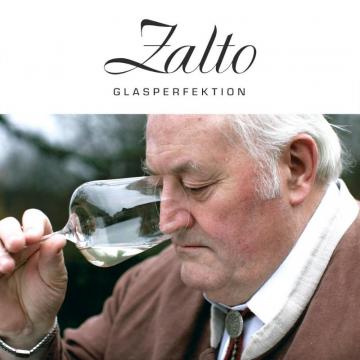 Zalto Glasses »Denk'Art«
The Zalto brand stands for glass perfection. For tradition and innovation in terms of drinking culture. The glasses of the manufactory from the Austrian Waldviertel are mouth-blown and hand-made using traditional techniques. This is how true masterpieces are created, such as the »Denk'Art« series. Each glass is unique, but due to the high level of skill and the long experience of the glassblowers, one glass in a series is like the other down to the last detail. This is true glassmaking art.
The characteristic feature of these glasses is their extremely thin walls. Such filigree glass appeals to all the senses: it has a fascinatingly aesthetic look, feels fantastic, and sounds particularly beautiful. This interplay makes drinking from a Zalto glass a special experience.
Despite their graceful design, Denk'Art glasses are suitable for everyday use and dishwasher safe. The collection includes various wine glasses: a white wine glass, a Bordeaux glass, a burgundy glass, a so-called universal glass, and also glasses for champagne, beer, and digestifs, as well as beakers for water and wine. Professional decanters and different-sized carafes are also available.
The name »Denk'Art-Glas« comes from the mentor of the glass series, the wine ambassador Hans Denk from Austria. More on this at the end of this page.
Denk'Art glasses from the Zalto brand are probably among the best drinking glasses out there. The extensive knowledge of the wine ambassador Hans Denk went into the development of these glasses. The legendary wine expert from the Waldviertel, as he was called, shaped the Austrian wine scene like no other. His enormous knowledge and the unbelievable sensory skills he was given made him an exceptional expert when it came to enjoying wine.
When developing the »Denk'Art« collection, the Zalto designers also incorporated what they call a "cosmic phenomenon". When designing the glass, angles were used that correspond to the angles of inclination of our earth. If one believes the traditions, the ancient Romans had already recognized that angles of 24°, 48°, and 72° in the manufacture of storage containers brought with them extraordinary properties: food not only stayed fresh longer in it, it also tasted much better. Perhaps this phenomenon is the reason why wine, drunk from Denk`Art glasses, can develop optimally in the nose and on the palate. The thin walls of the glasses also contribute to this. It ensures that the lips are pursed more when drinking than with other glasses. This directs the wine to the areas of the tongue that are important for perceiving the wine aromas. The aromas come into their own and the wine appears more complex.