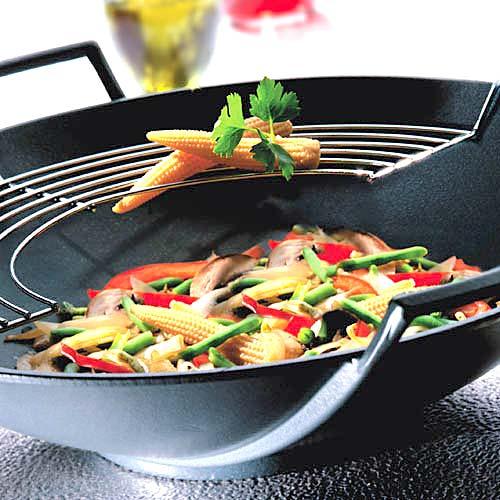 Wok - an Asian style of cooking
Wok comes from the Asian cooking. Unlike the traditional frying pan it usually has, depending of course on the model, a rounded shape of a horizontally divided ball. In its home countries wok has a convex bottom and is used on special stoves and hot plates.
Woks for Western cooking have been redesigned and have been equipped with a special bottom so that we could use them on our conventional stoves. This special shape of the bottom centres the heat in the middle of the pan. Therefore, it is perfect for stir-frying without destroying the texture and losing vitamins of the food.
In general, woks are suitable for all cooking methods - for blanching, steaming, stewing, deep-frying, boiling, roasting or braising. From a practical point of view, woks have usually two handles. They are also made of various materials and come with lids, barbecue accessories and spatulas.