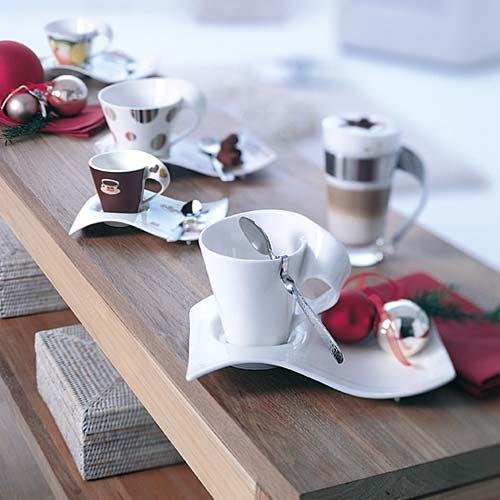 Villeroy and Boch New Wave Caffe Cups and Spoons
Because coffee tastes much better from the right cup and presents itself in proper style, Villeroy and Boch designed the series New Wave Caffe. The collection is an extension of the successful porcelain series New Wave. Villeroy and Boch New Wave Caffe includes cups and spoons for the most popular coffee specialties.
Villeroy and Boch New Wave Caffe is made of Premium Porcelain. This porcelain is shockproof and has a high edge strength. As usual pays Villeroy and Boch attention on individuality and elegance. Thus you find the typical waveform of New Wave in the asymmetrically designed handles of the coffee cups again.
Coffee experience custom-made
In addition to a pure white version is a colored version of Villeroy and Boch New Wave Caffe available. The different designs feature famous cities around the world in fresh colors. Take a trip around the world and discover the famous tourist attractions right at your breakfast table. All designs can be combined harmoniously. The coffee series animates thanks to the various city motifs not only to collect for your own, but is a great gift idea for any coffee lover.
So that the perfect coffee enjoyment is guaranteed, you need not only fine coffee beans and soft water, but also the correct cup. Similar to wine glasses, there is a certain cup-shape for each coffee specialty. These help to emphasize the unique character of the hot beverage. Espresso and mocha are brewed at about 92 ° C and enjoyed as hot as possible. A small, narrow cup shape is perfect for that coffee, because it keeps the temperature a long time. The breakfast cup is ideal for coffee drinkers who want to refine their coffee with a sip of milk. A delicious latte macchiato tastes best when you drink it out of a thick-walled glass. Villeroy and Boch New Wave Caffe has even more to offer. The saucer or party plate called is shaped so that you can store there little cookies and pastries.
Each year brings Villeroy and Boch New Wave Caffe four new designs in a trendy lifestyle design on the market. Discover the variety of Villeroy and Boch New Wave here in our online shop.