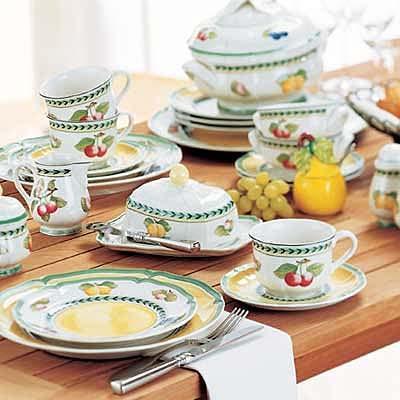 Villeroy & Boch French Garden Porcelain
Upscale tableware culture in country style: Villeroy and Boch French Garden presents itself as a durable tableware made of high quality Bone China.
Orchards and fruit motifs are reminiscent of the last vacation in the sunny south. French Garden tableware is currently available in currently four color-coordinated decors. In all versions dominate warm color nuances in green and yellow. The decors Fleurence, Vienne, Valence and Orange offer creative opportunities for individual mix and match combinations.
The French Garden Charm collection includes individual pieces of the basic equipment for the breakfast, dinner and coffee table. With table accessories from the French Garden Charm & Breakfast collection is the personal range expandable as needed.
The French Garden Kitchen Collection provides useful kitchen accessories, whose attractive appearance underlines an idyllic table setting. Drinking vessels and bowls from the French Garden Glass Collection complete your country style table.
Villeroy and Boch French Garden - French savoir vivre with rustic charm
For about 300 years, the German manufacturer Villeroy & Boch conducts its business from Mettlach in the Saarland. The varied natural landscapes of the border triangle Germany - France - Luxembourg may have inspired for the unique porcelain designs: Colorful decoration with motifs from nature are characteristic of many porcelain lines the traditional company. Fruits or plants decorate the high quality tableware in a Pop Art Style or in more natural painting. The product line Villeroy und Boch French Garden is a popular design classic for decades. The motifs are depicted in authentic colors and forms - this creates a unique charm. Apparently Mother Nature played godmother for the four charming decors. Fleurence frames the yellow plate surface with different fruit motifs. Valence is decorated with a single fruit motif on a white background, edged in a yellow-green border. Vienne and Orange have no fruit or vegetable decor. However, they are captured on the porcelain with yellow and green, the dominant colors of the French Garden collection.
Especially people with a sharpened eye for detail appears French Garden tableware with its many variations. Unfold with Villeroy and Boch French Garden on your table a harmonious colorful tableware potpourri!