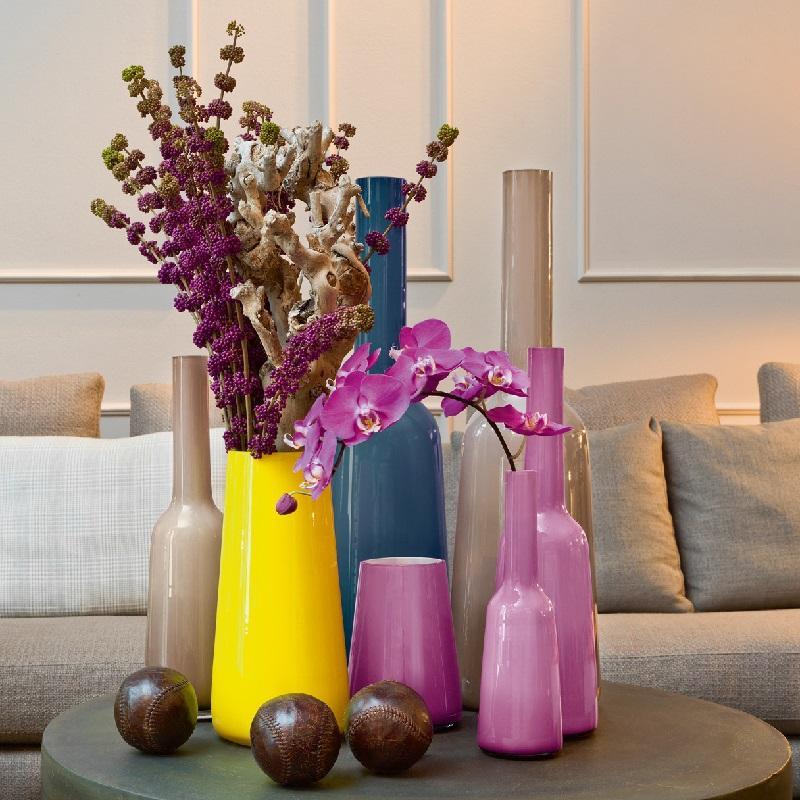 Vases To Decorate Your Home
Vases in various colours and shapes are ideal to nicely adorn your table setting and home. Whether made of glass, ceramics, porcelain or rubber - for any style of your living rooms you will find a suitable vase. Add some colourful highlights into your house by placing vases of a unique design.
Emphasize the individuality of your style or brighten up some corners of your flat! In our extensive range of vases you will definitely encounter the decorative or flower vases which will make a perfect match with your favourite flowers. Amazing design of our vases inspires you to create beautiful arrangements on your table top.
Vases for every living space
Flowers bring joy and perfectly decorate your house. And it does not matter what flowers you prefer. Suitable vases for your favourite flowers can be found in our on-line shop. Decorative vases in various colours and shapes will nicely highlight the individual style of your home. In our on-line shop you will find even such unusual vases as ball-shaped vases made of rubber. Such vases are especially recommended for those who have small curious children. Our extensive choice of vases attracts and meets fully the requirements of demanding art lovers. Rosenthal Vases made of glass and porcelain amaze you by their curvy, extravagant and dynamic design. Studio Line Phases Vases are especially appealing: they are designed in a special "broken" style which ensures the eye-catching effect. But those who prefer simple and elegant vases are not forgotten - choose your favourite among ceramic, glass or porcelain vases in classic style.
You can place not only natural flowers into glass and flower vases but also artificial flowers, candles, stones or water decorating nicely your living space and adding an eye-catching effect. Vases can be used not only exclusively for decorating but can make pleasant presents for your beloved and friends. A vase filled with natural flowers will certainly be appreciated by any person. Encounter a suitable vase for your flowers and save time and costs on packaging a present - browse through our on-line shop!