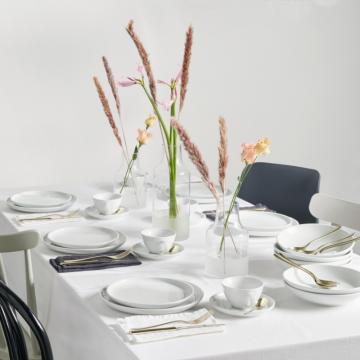 Thomas »Free«
Form follows function - this design principle is shown par excellence in the Thomas »Free« collection. This series is known to insiders as the former »Profi« form from Arzberg Porzellan.
The porcelain with the extra-thick wall thickness is somewhat reminiscent of traditional ceramic dishes, but thanks to the puristic design it fits into any modern ambience. A simple, smooth design is combined here with a high level of functionality: The solid form not only makes »Free« an eye-catcher on the table, the strong material also has practical advantages. Preheated plates and bowls keep food warm longer. Coffee specialties such as espresso and milk coffee also stay hot for a long time in warmed cups. The edge of the plates and bowls in this porcelain form is worked out as a clearly visible plateau - together with the material thickness, a characteristic design feature of the collection.
Thomas »Free« - high quality porcelain made in Germany.
Quality reference
microwave-compatible
dishwasher-safe