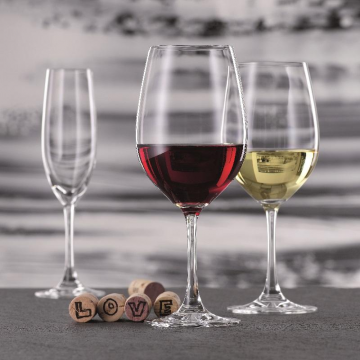 Spiegelau »Winelovers«
In the »Winelovers« glass collection, the Spiegelau brand succeeds in combining purism, elegance, and high quality. With their timeless, classic shape, these glasses appeal to both beginners who are just beginning to be interested in wine, as well as connoisseurs and lovers. »Winelovers« glasses are available in three versions: red wine glass, white wine glass, and champagne glass. In each glass shape, the respective aromas of the drink contained can unfold optimally.
The Bordeaux glass »Winelovers« impresses with its thin walls and at the same time robustness. The mouth rim and side walls of the voluminous goblet are delicately designed. The glass thickens towards the bottom and forms a massive base of the chalice. The »Winelovers« white wine glass has a medium-sized, bulbous goblet. Here, too, the solid handle and the relatively large base ensure good stability, which proves to be a real advantage, especially at larger events and receptions. The »Winelovers« champagne glass features a classic, elliptical champagne flute shape – slim and elongated, ideal for creating beautiful pearl formations. Here, too, the edge of the mouth is pleasantly thin. The well-thought-out combination of goblet and stem typical of Spiegelau and the reinforced base plate ensure that the glasses are more break-resistant and have a long service life.
All glasses in the Spiegelau »Winelovers« collection are available in a set of 4 in a gift box. The practical packaging and the attractive price make these glasses the ideal gift for many occasions.