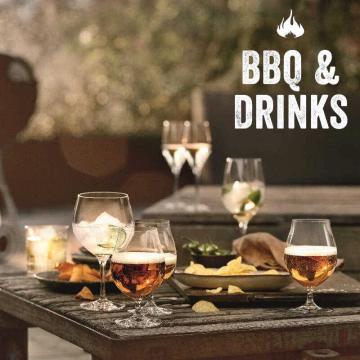 Spiegelau »BBQ & Drinks«
Barbecue, after-work party, birthday party - there are many occasions to celebrate with friends and family. Why not bring along a really trendy hostess gift instead of the usual bottle of wine at the next invitation? The 6-pack glass set of the Spiegelau BBQ & Drinks series can be conveniently taken along and given as a gift thanks to their attractive 6-pack ToGo.
And there is something for every taste: six drinking glasses each for trendy drinks such as gin tonic, Spritz, Prosecco, Beer, and soft drinks.
Prosecco is suitable for sparkling wine, champagne, prosecco, frizzante
Spritz: for all spraying recipes like Aperol Spritz, Hugo Spritz, Lillet
Beer: for many different types of beer like Pilsner, Ale, Craftbeer, beer mix drinks
Soft drink: for water, soft drinks, mocktails, cocktails
Gin Tonic: for long drinks like Cuba Libre, Gin Tonic, Caipirinha

The crystal glasses of the BBQ & Drinks series combine the well-known strengths of the Spiegelau brand: high-quality, functional design combined with stability and breaking strength.