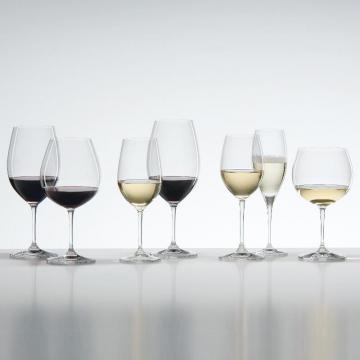 Riedel Vinum - Wine glasses for connoisseurs
The origins of Riedel Glass, founded in 1756, lie in the region of Bohemia. The many years of experience in glass production and the constant development of production processes guarantee the high quality of Riedel glasses. The glass series "Sommeliers" is internationally known.
With the collection of VINUM, Riedel has succeeded in making the corporate philosophy of the functional wine glass affordable: For almost every grape variety the right glass was developed. The different goblet sizes and shapes perfectly support the respective characteristic bouquet of the wine. Not "form follows function", but the form follows the content, that is the credo of the Vinum glasses.
Vinum is supplemented by glasses for fine spirits and distillates, and also are included in the series for water and champagne. Vinum glasses are available in a practical set of 2. A great idea - even as a gift - is the four-part Vinum Tasting Set. A visual highlight and sensible accessory is the extraordinary decanter Vinum Extreme: The glass professionals from Riedel are convinced that every good wine - whether young or old, red or white - can be refined by decanting.