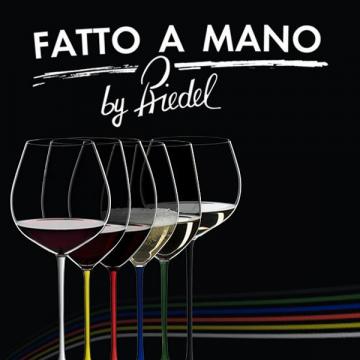 Riedel Glasses Fatto a Mano
"Fatto a Mano" (english: handmade) is the name of a new range of products by Riedel. Manufactured in the Tirole glass factory, Fatto a Mano offers individual glass shapes for exquisite wine enjoyment. The new series is created by a unique manufacturing technique that combines the finest Venetian handwork tradition with the machine blow technique of the 21st century. The Fatto a Mano series impresses with its handmade perfection, artistic forms and colour aesthetics. Enjoy the classic grape sorts in a new way!
Discover the new Fatto a Mano product line at Porzellantreff and take advantage of a unique offer. By purchasing of at least 150 glasses of one glass shape, individual colours, i.e. colour combinations, will be produced upon request. Crystal glasses are dishwasher safe.