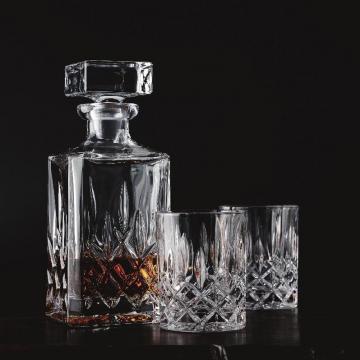 Nachtmann »Noblesse«
Nachtmann is a traditional brand of Bavarian origin for high-quality crystal glass products. For almost 200 years now, the name Nachtmann has stood for high quality and distinctive design in glass production. Today, the most modern machine manufacturing techniques are used to create drinking glasses, gift items, and products for the settable such as plates and bowls.
»Noblesse« is a characteristic glass series from the house of Nachtmann. Heavy, opulent glasses with a noble cut design make the table sparkle and are an expression of style and good taste. The collection offers a wide selection of different glasses: From the classic whisky tumbler with the matching decanter to water and wine glasses to accessories such as wine coolers and glass bowls. The champagne flute is ideal for enjoying all types of sparkling wine - whether sparkling wine, champagne, or prosecco. A cool beer is enjoyed from the beer mug, and for high-proof spirits, there is a mini-jug in the same design, a so-called »Stamperl«. The large ice cream glass is also suitable for serving sundaes in style. In the »Noblesse« cocktail bowl, short drinks and cocktails are presented in a trendy, luxurious bowl shape.
Très chic and very skilfully presented in retro style, »Noblesse Gold« comes in a »Limited Edition«: the cut design typical of Noblesse is given a gold rim as the crowning touch on the whisky tumbler and long drink glass. These glasses bring a real club atmosphere to any private bar.
Glasses from the »Noblesse« collection are available here at Porzellantreff in various practical set combinations.