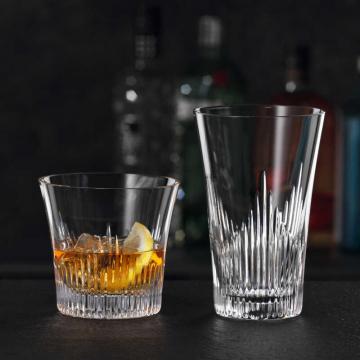 Nachtmann »Classix«
Glasses from Nachtmann add a touch of luxury to any day. Enjoy your favorite drinks in style - from high-quality crystal glasses from the Nachtmann brand. The »Classix« series is a bar collection consisting of tumbler glasses that are available in four different sizes and with four different cut designs. The special feature of these glasses is their elegant shape: it differs from the classic straight tumbler shape, as it opens slightly towards the top. The small tumbler is a typical SOF glass, a »Single Old Fashioned« glass, for short drinks and spirits on ice. The larger version of this is the DOF glass, the» Double Old Fashioned« version, which is suitable for twists and sours. The universal tumbler acts - as its name suggests - as an all-rounder. With its size, it cuts a fine figure as water glass and for soft drinks. The largest glass in the series is the long drink tumbler, which can also be used perfectly for highballs and other mixed drinks.
Note: In a set of four are each 4 glasses of the same size in four different designs.
Quality reference
dishwasher-safe
There are no products matching the selection.