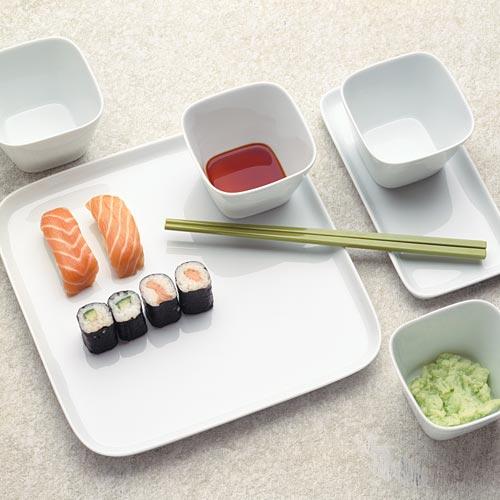 Quick-change artist Kahla Abra Cadabra white
The Asian culture has occupied one of the central parts of the European gastronomic culture. Many people here in Europe regularly enjoy nice, exotic cuisine or cook at home sushi, spring rolls, glass noodles and other famous and delicious Asian dishes. It is very important the way you present and serve these dishes: in Asia beautiful tableware matters as much as the food itself!
The porcelain pattern Abra Cadabra white from Kahla includes white trays in different designs and shapes: square, rectangular or exta-long. Small white bowls with tiny covers will go well with these trays. Abra Cadabra white can be easily mixed and matched with colourful and square bowls and covers from other patterns of Abra Cadabra. The items from other Asian patterns from Kahla and from other manufacturers which you can discover in our on-line shop can be perfectly combined and will create the necessary atmosphere around your dinner table.