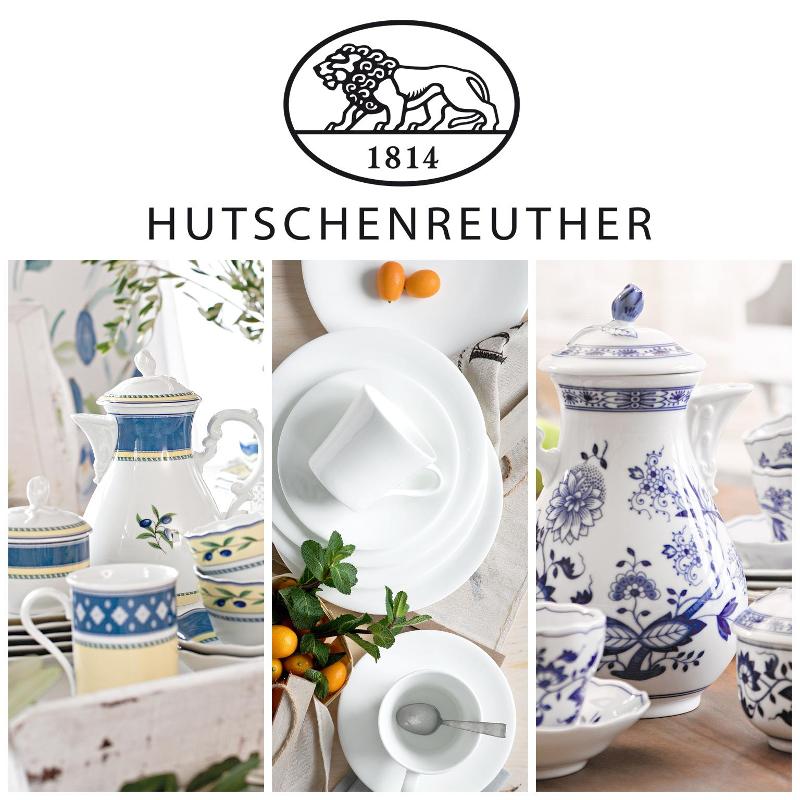 Hutschenreuther porcelain - founded 1814
The traditional porcelain brand Hutschenreuther established for elevated table décors. As a matter of course we deliver your Hutschenreuther porcelain table ware in first choice quality. Complete your Hutschenreuther porcelain selection with the matching cutlery, porcelain or table linen!
Tableware and decoration to dream and feel happy
The traditional brand Hutschenreuther known since 1814 has succeded to convince of its high quality products. Being inspired by the nature and putting a great emphasis on traditional values Hutschenreuther was able to create timeless, beautiful and elegant porcelain. Mediterranean patterns and forms provide Hutschenreuther porcelain collections with peacefulness.
Spring, summer, autumn and winter
The dinnerware decorated according to a particular season makes you dream and ecourages you to give a present for somebody or for yourself. With Hutschenreuther porcelain you will provide yourself and your beloved ones with joy for the whole year. Every article is carefully and thorougly designed. You would take with pleasure your new Hutschenreuther dinnerware into your hands and would be eager to set your table with it. Besides beautiful tableware you can find in our shop elegant table linen and different decorative small figures, specially designed for Christmas and Easter. Real porcelain lovers will appreciate the noble collections of white porcelain or Bone China.
Hutschenreuther - beauty which will never fade
Find your favorite set among the numerous collections. Christmas and Easter collections from Hutschenreuther will inspire you with glamorous ideas how to decorate your house. Here you will be able to purchase nice tree decorations made of glass or of elegant porcelain as well as amazing table linen. You can not only buy a new Hutschenreuther dinnerware or coffee-set but also fabulous vases and modern porcelain bowls. Enjoy your time while shopping in our online shop!