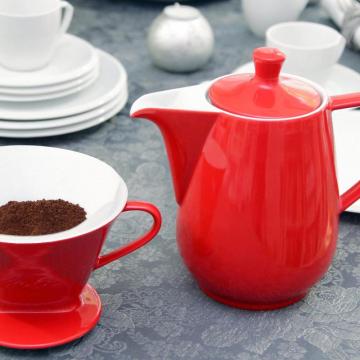 Friesland coffee - coffee pots and filters
A special treat for coffee connoisseurs is freshly brewed, hand-filtered coffee. That is why almost every coffee connoisseur knows the classic coffee pot and the original coffee filter that Friesland has been producing since 1954.
The retro style of the 50s is reflected in these cult objects. The porcelain filter used to bear the inscription Melitta, since the summer of 2019 the filter is manufactured under the brand name Friesland. The shape and the quality of the craftsmanship remain unchanged.
The Friesland coffee pots and coffee filters are available in different sizes and colors here at Porzellantreff.