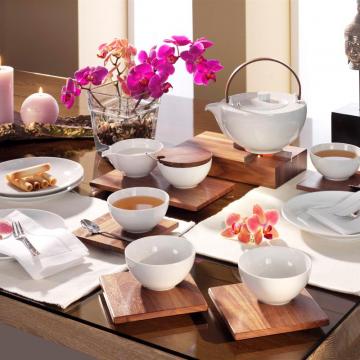 Friesland Chai Weiß tea service
Chai comes from the Chinese language. The Chinese tea culture is already 2000 years old and thus the oldest in the world. In large parts of Asia, chai means tea in many different variations. The elegant Friesland tea service Chai, which owes its name to the Chinese word for tea, combines white porcelain with fine walnut wood, which complements each other in perfect harmony. At the same time, they create excitement that never gets boring. The high functionality is particularly evident in the decorative warmer: a small compartment for matches conjures up a fireplace atmosphere for cozy tea hours.
Complete your Friesland Chai white porcelain with matching cutlery, glasses, or table linen!