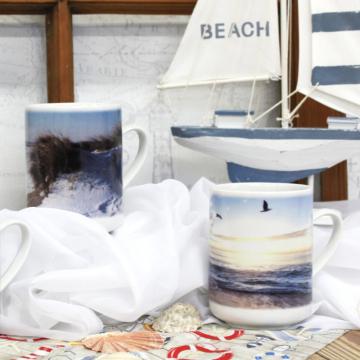 Friesland Mugs »Strand«
As the name suggests, the large »Strand« mugs from the Friesland brand whet the appetite for sun, sand, and sea. Photo-realistic depictions of lonely beaches awaken the longing for a vacation on the North Sea: Picturesque dunes, in summer and in winter, a romantic sunset on the beach, and seagulls that make their way over the sea. As if made for the little daydream during the coffee break, for the anticipation of the next trip, for lasting holiday memories.
The XXL cups hold 0.5 liters and are perfect for extra-large portions of coffee and tea, and their size also makes them suitable for coffee specialties such as milk coffee and latte macchiato. The mugs are also practical because they are dishwasher safe and suitable for the microwave. The motifs »Dune«, »Winter Dune«, »Sunset« and »Gulls« are available. A nice detail is the Friesland logo above the handle: it stands for North German quality made in Germany.
Quality reference
microwave-compatible
dishwasher-safe