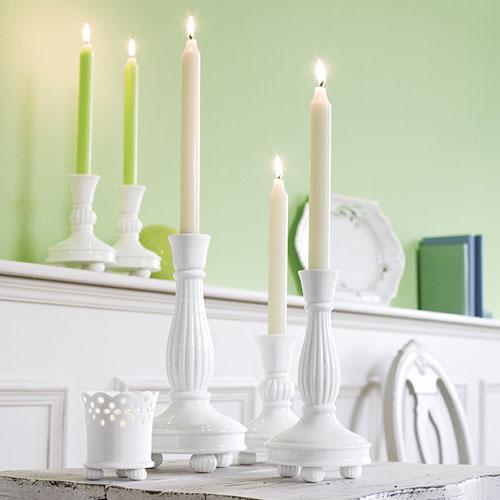 Candlesticks for beautiful living and giving
Warm candlelight is the perfect lighting for many occasions. Unique chandeliers beautify not only your own home; they are also a wonderful gift. Because of this, you will find in our online store the matching candlesticks. Choose your new candlesticks from a large number of designs, shapes and materials. Depending on the desired ambience, you will find here beautiful pieces made of stainless steel, glass, porcelain or ceramic. Enrich your home and let yourself be enchanted by the magic of candles.
In addition to your new Candlestick, you will also find matching decoration items.
Natural candlelight for the home and garden
Candles give off natural light and warmth. Enrich your home with the specific safety, which gives only real candle light. Of course, it requires a matching candleholder for the right presentation. In this lend different materials and different designs each room its own touch.
For upscale events, you will find in the category candlesticks made of stainless steel selected creations of noble metal. These models are characterized by their straightforward elegance. A candlestick made of stainless steel is durable. Even your kids will it still have their joy with the candlestick. Because of this durability, they are ideal as a lasting gift for weddings or special birthdays.
The special ambience you can get with candlesticks from our category candlesticks made of glass. The faceted surfaces breaks the shimmering candlelight a hundred times and create a unique atmosphere. On our website, you will not only find glass candleholder, but also lanterns in various designs. Countless colors and shapes will make each of your garden parties to a real experience. Discover endless dream worlds with candlesticks made of glass.
Under candlesticks made of porcelain, you will find noble porcelain candlesticks, which give their own charm. The white gold has always enchanted people and puts them under its spell. Especially in the reflective Christmas season, delight the various models young and old alike. Naturally, there is also simple versions for everyday use.