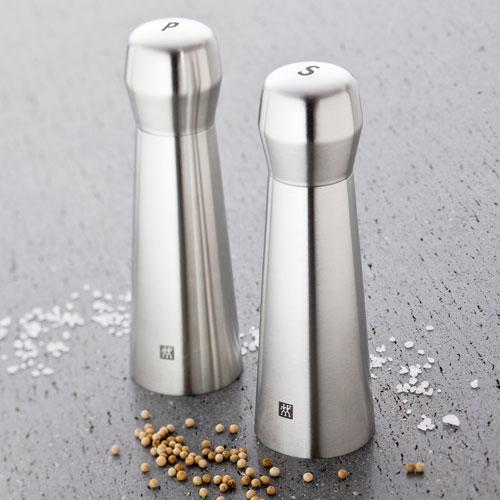 Zwilling Spices Salt & Pepper Mills
Clear and attractive accented forms in three color variants offer the new kitchen gadgets by Zwilling. With Spices, you spice up your meals in the future like a professional. By the high-quality ceramic grinding mechanism, similar to a mortar and pestle, salt and pepper are ground corrosion free. Through a special combustion method at high temperatures, the ceramic becomes harder than steel and grinds so with a higher precision. Furthermore, a ceramic grinder is perfect for spicing over the open pot, because it cannot rust. Besides is ceramic non-abrasive and thus food safe.
The ergonomic handles allow a comfortable handling. Easy filling allowed by a "pull & fill" mechanism. The non-slip mills are easy to clean. The infinitely adjustable grinding mechanism is extremely robust and therefore suitable for everyday use.
The aesthetic and functional mills are available in three different color versions.