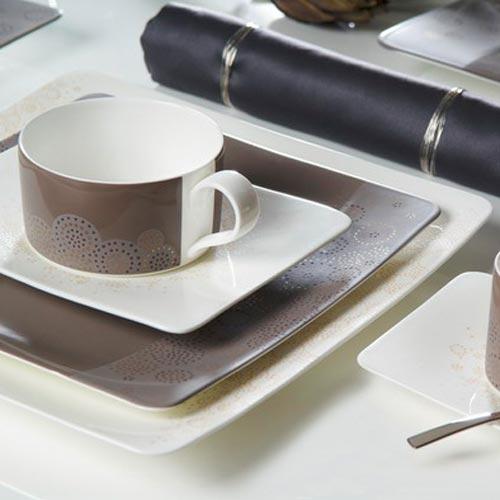 Villeroy & Boch Modern Grace Grey
Porcelain Villeroy und Boch Modern Grace Grey Porcelain embodies the spirit of the late 60s. The special flair of modern hotels and the fascination of urban architecture have inspired this collection.
The decor develops over several levels. It is influenced by Art Deco patterns and geometric structures. The color concept is also applied in several stages. Cool metallic tones on white porcelain form an exciting contrast with the strong solid-color world. The matt-gloss effects produce a harmonious tone-on-tone composition.
Each crockery part of the series Villeroy and Boch Modern Grace Grey impresses with its individual decor. The Modern Grace Grey Porcelain is dishwasher safe and thus easy to clean.
Villeroy und Boch Modern Grace Grey can be combined beautifully with matching glasses, cutlery and table linen!