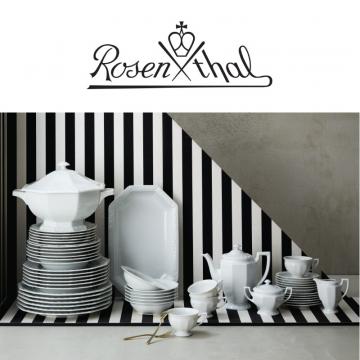 Rosenthal porcelain - perfect example of tradition and innovation
Rosenthal GmbH is one of the best-known German manufacturers of porcelain and accessories for your table and kitchen. Today, as has been the case for more than 130 years, Rosenthal develops products that are unique in their form, function and quality and that stand internationally for cultural assets "Made in Germany". In collaboration with well-known artists and designers stylish tableware collections and creative porcelain objects are realized, as an expression of a sophisticated table culture. Glass, cutlery and kitchen accessories complete the extensive product range in the areas of living and gifts.

Well-known brands belong to the company: the brand Rosenthal Tradition (formerly »Classic«) stands for classic, timeless service such as »Maria Weiß«. Rosenthal studio-line - this is the modern, avant-garde line for design and art made of porcelain and glass. In collaboration with the Italian luxury brand Versace, glamorous porcelain is being produced under the label Rosenthal meets Versace. All other Rosenthal brands as Hutschenreuther, Arzberg and Thomas can be found here in our online shop as each separate category in the menu »brands«.

Discover the diverse world of Rosenthal: individual cups and plates, practical sets, complete service, stylish gift articles - buy online at our porcelain counterpart at reasonable prices.

Porzellantreff.de is the official onlineshop partner of Rosenthal Ltd.