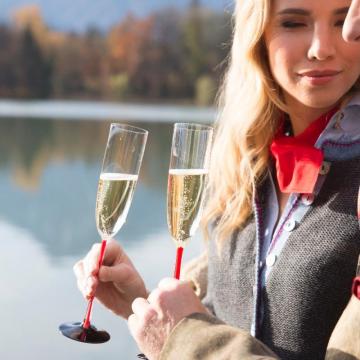 Riedel Sommeliers Black Glasses Series Collector's Edition
The world famous glass collection Sommeliers is presented in a new outfit. In 2013, just right for the 40th anniversary, the glass-makers and the designers from Riedel have developed something particularly outstanding - the Black Series. This new line embraces opaque black wine glasses made of lead crystal in the original Sommelier form. The stem of these glasses appears especially elegant thanks to its fine red string, which is jacketed in clear crystal.
Cobalt and Manganese helped to achieve the black and non-transparent colours of the glass. For the glass-makers this is a very huge challenge, because glass combined with such substances cools down faster and, thus, becomes hard quicker. These noble and elegant glasses are produced to enhance the taste of your favourite beverage, but they can serve as beautiful decorative items which will add a unique brilliance to any wine collection.
3 Designs of this Special Edition - There is the Right Thing for Every Taste
Elegant glasses have 3 different designs. Thus, you will find a design where Sommeliers Black Series Collector´s Edition presents itself in complete black - Black. Yet, glasses with a red stem, a black base and a black cup - Black Series Collector´s Edition - Black Red Black - captivate you with their extravagance. And last but not least, glasses made of clear glass with a red stem and a black base - Black Series Collector´s Edition - Red Black - are still available but only until stocks last. You will definitely find in the range of this special addition something to your liking!
Sommelier is 40 Years - the Success Story continues
The Austrian family company, Riedel, has been in business for more than 11th generation. Moreover, a high value is placed not only on a great design, but also on a handy form and functionality. For the Riedel glass-makers it is of a great importance to transmit the message of the wine, its sophisticated flavour and taste. That is, wine should be experienced with all senses. Therefore, for the taste and aroma to be enjoyed simultaneously, most Riedel glasses have a wide opening. At Riedel many years' experience is passed on to the next generation, so that you could still enjoy your wine for many years to come in the best shape.