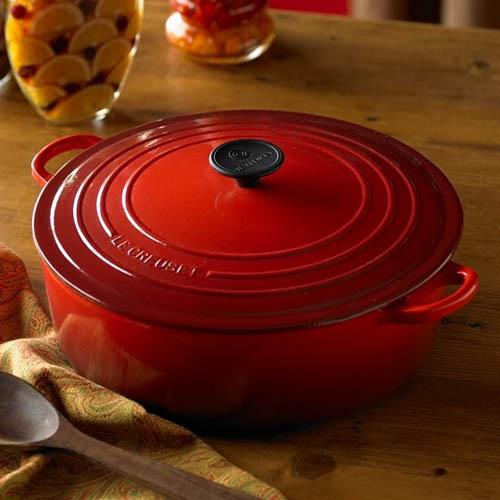 Le Creuset Gourmet Casseroles made of cast iron
A classic casserole with a low rim, this is the Le Creuset Gourmet Casserole. Everything is easy to achieve: stews, soups, sliced, goulash, pasta, risotto and other dishes can be cooked in large portions.
The round pot is ideally suited for larger families and the catering for guests. The extra-large bottom surface can be optimally used for frying and braising. All the ingredients cook evenly and especially at the same time. The Gourmet Casserole from Le Creuset is available in many bright colors. His cheerful bright appearance decorates each table so that food can be served directly there.
The Gourmet Casserole has many useful properties. Firstly, it is an excellent heat storage. Once it is hot, the heat in the pot stays very long. Therefore, you do not need a high heat level during cooking and frying. At medium or low temperatures, you achieve the best cooking results. The materials of fry will be roasted so flavor-preserving with low energy consumption.
The Casserole can be used on all hob types including induction. Even for the oven and under the grill is this casserole suitable. Because of the fact that the Gourmet Casserole and the side-mounted handles can become very hot, please touch the pot only wearing oven gloves or potholders.
There are no products matching the selection.