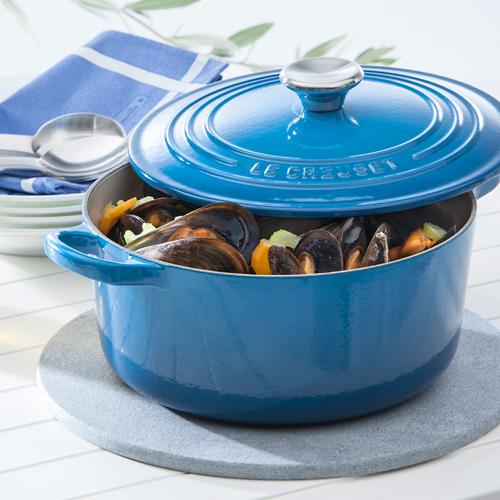 Le Creuset Cast Iron Marseille
With the various pans and casseroles made of cast iron by Le Creuset Marseille, each dish is prepared quickly. Risotto, soup, stew, goulash, sliced and much more always succeed with the blue cookware. No matter which pan or casserole what you choose - with the Le Creuset Marseille cookware you will always achieve flawless results. The even heat distribution and excellent heat storage of cast iron ensure that cookware and grilled food stay hot for a long time. The materials of fry will be roasted so flavor-preserving. Meat will be brown on the outside and stays juicy on the inside.
The Marseille Le Creuset casseroles and pans are available in different sizes. Small sizes are suitable for food preparation and serving single portions. For the preparation of meat and vegetable dishes, such as roulades or ratatouille, the sky-blue casseroles with a larger diameter are the right choice. Lover of steak, chicken and turkey fillets will be delighted by the Marseille Le Creuset pans, because these are ideal for sharp and crisp searing meat.