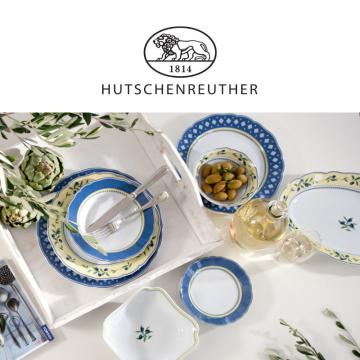 Hutschenreuther Porcelain — famous since 1814
The one who buys Hutschenreuther porcelain values peace and beauty of everyday life. Tableware and porcelain from Hutschenreuther are especially suitable for the admirers of unsophisticated and nice cups, plates, dinner services, decorative accessories and table linen.
The dinnerware is proper for a festively laid table, as well as for a nicely laid breakfast table. There are different dinnerware sets designed for various occasions. Interesting and unusual forms combined with natural elements give a playful note to kettles, plates and cups, all made of white porcelain. Adorned with flowers, butterflies and small bugs on colourful porcelain fill your house with the feeling of the proximity to the nature. Soft colours help you to relax, while the classical blue paintings will remind you of your grandmother's cosy tea table.
Tableware and decoration to dream and feel happy
The traditional brand Hutschenreuther known since 1814 has succeded to convince of its high quality products. Being inspired by the nature and putting a great emphasis on traditional values Hutschenreuther was able to create timeless, beautiful and elegant porcelain. Mediterranean patterns and forms provide Hutschenreuther porcelain collections with peacefulness.
Spring, summer, autumn and winter
The dinnerware decorated according to a particular season makes you dream and ecourages you to give a present for somebody or for yourself. With Hutschenreuther porcelain you will provide yourself and your beloved ones with joy for the whole year. Every article is carefully and thorougly designed. You would take with pleasure your new Hutschenreuther dinnerware into your hands and would be eager to set your table with it. Besides beautiful tableware you can find in our shop elegant table linen and different decorative small figures, specially designed for Christmas and Easter. Real porcelain lovers will appreciate the noble collections of white porcelain or Bone China.
Hutschenreuther - beauty which will never fade
Find your favorite set among the numerous collections. Christmas and Easter collections from Hutschenreuther will inspire you with glamorous ideas how to decorate your house. Here you will be able to purchase nice tree decorations made of glass or of elegant porcelain as well as amazing table linen. You can not only buy a new Hutschenreuther dinnerware or coffee-set but also fabulous vases and modern porcelain bowls. Enjoy your time while shopping in our online shop!