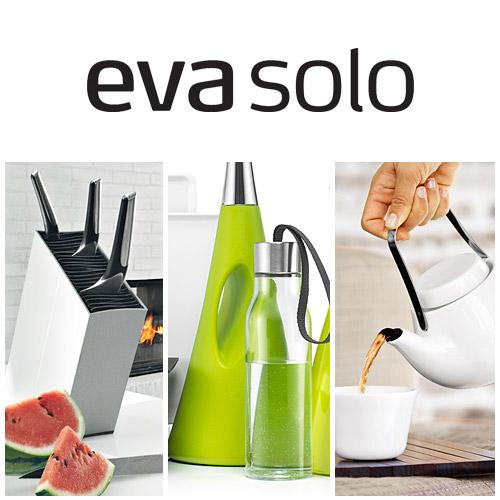 Eva Solo - maker of magnificent kitchen utensils
Wonderful products were created by the designers Henrik Holbaek and Claus Jensen from the Tool design company (Denmark). A remarcable bunch of their works were honoured with international design awards. The collection of Eva Solo design products contains many embodied ideas of this duet. Simple and modern outline allows these qualitative products to stay highly suitable for everyday usage.
Uncomplicated usage, sharp and original ideas, along with pretty and elegant appearance make Eva Solo brand name so special. Their product line contains useful units which can be used in a dining room or kitchen, on a banquet table or at a barbecue. In the categories Outdoor, Cooking, Living and Serving you may find many practical items. Every item is made of high quality materials like high-grade steel, glass, plastic or porcelain.
Eva Solo Karaffe - a
life-
style
pointing decanter
Are you looking for something special? Then you may certainly like the Eva Solo Carafe in its various performances. It belongs to the wide product line presented in Serving series. This non-dripping Carafe is made of heat-resistant glass and available in three sizes. It is suitable for all drinks with volumes of 0.6, 1.0 or 1.4 litres. The high-grade steel pourer and the automatic opening silicone flip top make the carafe so special. It is a definite "must have" because of its beautiful form and functionality. Hot and cold drinks, teas or selected wines - everything fits in this decanter. A special fridge carafe is available with or without a neoprene cover in pretty colours. Equipment and quality corellates with the normal decanter, with a volume of 1 liter. There is as well non-dripping caraffe (0.5 litres) made especially for oil or vinegear. You can fill it, using all your individuality and creativity.
Eva Solo teapot - classy tea pleasure
If tea helps you to relax , then the Eva Solo Teapot must be always on your table. The 'My Tea teapot' from the Serving series is made of high-class white porcelain. The high-grade steel and silicone are the high-quality materials used as well in the production of these amazingly white Eva Solo teapots woth capacity of 0.75 litres. Two thermo cups fit this non-dripping pot ideally. The thermo cups are available in white colour with 0.15 or 0.22 litres of capacity. There are also available: teamaker with neoprene cover (1 and 1.4 litres) as well as with an insulating pot (1 litres) made from glass and plastic. The tea egg and the tea bag from the collection are also made of high-grade steel.