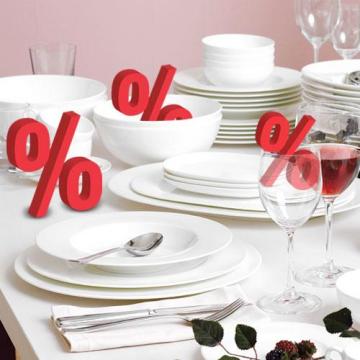 Collections on sale
From now on it is no longer a matter of luck to discover our discounts. In this segment you will get an overview of all our collections on sale. Here we have arranged all discounted patterns of our different suppliers at a glance.
It is worthwhile to take the chance, because most of the discounts are temporary or totally remainders. So make sure to secure your bargains, while stock lasts.
Arzberg porcelain is handy and uncomplicated. With a clear shape and a good price, Arzberg porcelain is popular for everyday use. Popular series like Tric, Profi, or Cucina are offered as coffee or...

Here you will find current offers of the young Danish successful brand Bitz. Bitz uses the mix-and-match principle to combine different materials, shapes and colors into a lifestyle collection for the...

Discover a wide selection of Riedel glasses at special prices! The glasses and glass sets of the manufacturer convince with high-quality materials and a stylish design. Purchase...

The brand manufacturer Zwilling offers high-quality knives, knife blocks, scissors, cookware and much more. We present you with all the Zwilling offers at a glance and so you will not to miss new...

Arzberg Cucina Bianca Weiß - first choice

Cucina Bianca dinnerware impresses with its classic and elegant design. The Cucina Bianca collection offers plates, cups, plates & more from Arzberg for every day. The harmonious...

Arzberg Cucina Colori Black

Classic Cucina porcelain dinnerware from Arzberg is guided by everyday needs. The collection possesses the natural elegance and drives attention thanks to its harmonious aesthetics. With the...

Arzberg Cucina Colori Porcelain

These lovely dishes from Arzberg will help you to start your day really great. Nicely coloured rims of this porcelain will guarantee a happy mood throughout the whole day. Yellow, orange, red, purple,...

BSF Besteck Cult mattiert

Die klare geometrische Kontur und die mattierte Oberfläche machen CULT zu einem designorientierten Besteck, das leicht und elegant wirkt. Die dezent gebogenen Heftenden vermitteln ein...

Die klare geometrische Kontur und die polierte Oberfläche machen CULT zu einem designorientierten Besteck, das leicht und elegant wirkt. Die dezent gebogenen Heftenden vermitteln ein...

The fine line pattern makes COUNTRY classic and nevertheless original. The traditional flatware shape has made the leap into the present and represents itself trendy and timeless. Highly versatile...

»Nomen est omen« gilt bei der Glas-Kollektion »Unik« aus der Glashütte Eisch: Jedes Glas wird von den Glaskünstlern im Bayerischen Wald frei geformt und ist somit ein...

Hutschenreuther Maria Theresia Weiß

Hutschenreuther Maria Theresia Weiß comes from the blossoming of porcelain and is the epitome of classic porcelain tradition. A shape that refers to the stylish bloom of table culture and that...

Hutschenreuther Nora White

The Nora Bone China Porcelain collection by Hutschenreuther offers white porcelain dinnerware for every day. Nora distinguishes itself with its clear lines and swung shapes in decent white....

Rosenthal Brillance Fleurs Sauvages Porcelain

Rosenthal »Brillance Fleurs Sauvages«

Rosenthal Glassware diVino

You will love picking up Rosenthal diVino glasses. You'll love to toast with it. And you will drink from it with pleasure. Connoisseurs and connoisseurs will particularly admire your Rosenthal diVino...

Rosenthal verbindet in der Serie Jade die neuen Trends der internationalen Tafelkultur mit Design und Ästhetik. Die Serie Jade Weiß von Rosenthal besteht aus feinstem Bone...

The distinctive Rosenthal tableware Maria Weiß is one of the most popular porcelain series of the internationally successful Franconian company. The series was designed by company founder Philip...

Rosenthal Selection Jade Magnolia

The new pattern of tableware Jade Magnolia from Rosenthal adds a springlike decor to the whole collection of Jade. Magnolias sprinkled over fine bone china are of a light pink...

Rosenthal studio-line Blown 2nd Edition

After Squall, Blown 2nd Edition is now available, in white-glazed, white-matt, and black-matt versions. Individual flowers are impressively displayed in these vases, but even without flowers, these...

Rosenthal studio-line Tütenvasen

Die kultige Tütenvase ist ein echtes Original aus dem Hause Rosenthal. Diese Porzellanvase ist einer zerknitterten Papiertüte täuschend echt nachempfunden. Auch ohne Inhalt ist jede...

Rosenthal Studio-Line Wan

The clear design language of Rosenthal studio-line Wan combined with a high level of functionality is strongly reminiscent of Asian tea culture. Fine, translucent shards offer simple elegance.

Cutlery sets from Sambonet are luxurious and exquisite embodiment of dining culture. Sambonet cutlery sets are made of 12% nickel silver and stainless steel AISI 304. If you wish to set a table...

The Italian company Sambonet looks back on a long history: Since 1856, the traditional company has developed into an internationally successful brand for table and home decor. The name Sambonet...

The Italian interior brand Sambonet can look back on a long tradition when it comes to high-quality cutlery and dishes made of stainless steel and silver-plated steel. The company has stood for...

Sambonet - this name stands for elegant table and home decor in Italian design. High-quality cutlery, professional cookware, accessories for serving and decorating and much more is part of the...

Sambonet lends five cutlery sets in Best Sellers new brightness. The manufacturer offers various sets from now on, available in up to four different PVD-coatings. PVD (Physical Vapor Deposition)...

The Sambonet »Rock« cutlery collection impresses with its unusual design and eye-catching appearance. The slim, angular form looks extremely stylish, but - depending on the color - it is...

Sambonet erweitert sein Sortiment im Bereich professionelles Kochgeschirr und präsentiert die Kollektion »Rock'n'Rose«. Dazu gehören hochwertige Bratpfannen,...

Seltmann Weiden Beat Color Glaze

This is where color comes into play! In addition to the classic white variant, the Seltmann Weiden »Beat« series is available in four shades: arctic blue, pearl grey, sage green, and sand...

Seltmann Weiden Beat Weiß

Simple and at the same time tasteful, uncomplicated, and yet sophisticated - that is the »Beat Weiß« collection from the Seltmann Weiden brand. The clear shape is emphasized by a...

Seltmann Weiden Desiree Aalborg

Classical and decent design from the manufacturer Seltmann. The Seltmann Weiden Desiree Aalborg porcelain prooved again That the traditional company from Weiden will always set the trend and it shows...

Seltmann Weiden Liberty Weiß

The design of the »Liberty Weiß« collection from Seltmann Weiden is soft and flowing. Contemporary tableware inspires by its simple design and the large selection of articles....

Seltmann Weiden Lido Black Line

»Lido Black Line« by Seltmann Weiden - a real all-rounder with that "certain something". Only a subtle black line accentuates the simple form. Made for everyone for whom pure white...

Seltmann Weiden Lido Weiß

Whether regional cuisine or international specialties, a large coffee party, or a stylish dinner for two, for everyday use or festivities - »Lido Weiß« from Seltmann Weiden is always...

Seltmann Weiden Life Molecule

With the creative mix-and-match concept »Life Molecule«, the traditional brand Seltmann Weiden has created an extremely versatile tableware. The decors in the three colors »Amber...

Seltmann Weiden Modern Life Black Line

»Modern Life« by Seltmann Weiden has what it takes to become a modern classic. Selected articles of the series are now available in a trendy look in addition to the white variant: A fine...

Seltmann Weiden Modern Life Weiß

The »Modern Life« collection from Seltmann Weiden is a real all-rounder - porcelain for every situation and every occasion. The clear, simple tableware in white gets "that certain...

Seltmann Weiden No Limits Moments

Whether as a soloist or a combination partner: the series »No Limits Moments« from the Bavarian porcelain manufacturer Seltmann Weiden is a modern, everyday all-around tableware. It...

Seltmann Weiden Rondo Liane White

Festive tableware Rondo / Liane White from Seltmann Weiden completes your table setting. Modern outlines with classic focuses turn this Rondo porcelain into stylish tableware, suitable for...

Seltmann Weiden Rubin Cream

Timeless and elegant presents itself Rubin Creme porcelain dinnerware. Simple forms of the items within this collection, which are combined with the slightly curving borders and the fine relief on the...

Seltmann Weiden Rubin Cream Goldrand

»Rubin Cream Goldrand« by Seltmann Weiden: a classic tableware for festive occasions. The romantic »Ruby« forme impresses with its lovingly designed details: the base of the...

Seltmann Weiden Sonate Nostalgie

Bright, romantic, and a little playful - that's »Sonata Nostalgie« from Seltmann Weiden. A cheerful scattered flower decoration adorns the traditional shape and puts you in a good mood...

Seltmann Weiden Trio 71381 Highline Porcelain

The modern form of the series Trio is highlighted by the subtle yet clean lines of the Trio Highline collection by Seltmann Weiden. Seltmann Weiden Trio Highline porcelain is timeless, stylish, and...

Seltmann Weiden Trio White

Seltmann Weiden Trio Weiß impresses with a sophisticated and particularly aesthetic design language. The Seltmann Weiden Trio Weiß has triangular forms with soft curves, conveying a...

Tettau Pompöös by Harald Glööckler

Harald Glööckler, the Prince of Pompöös, hat zusammen mit der Porzellanmarke Tettau diese traumhaft opulente Geschirr-Kollektion entworfen: Tettau »Pompöös«...

The porcelain bowls »Daily« from Thomas are true multi-talents. They are used in the kitchen and on the set table, and they look particularly attractive when you combine different sizes...

Form follows function - this design principle is shown par excellence in the Thomas »Free« collection. This series is known to insiders as the former »Profi« form from Arzberg...

Thomas extends the range of the award-winning ONO collection with the new energetic decor "friends". ONO friends emphasizes the individuality of the ONO collection with the strong basic colours blue...

As early as 1981, the London design agency Queensberry Hunt designed the »Trend« shape for the Thomas brand. Since its market launch, this collection has been a success story, is now one...

The timeless and simple Trend Porcelain impresses with its versatility, which make every table a place of enjoyment. Because the very different plates, cups, bowls, and other tableware can be put...

The Arthur Cutlery by Villeroy & Boch features a country-house style and a modern shape. This line from Villeroy & Boch comes in 2 designs - polished stainless steel and brushed stainless...

Villeroy & Boch BBQ Passion

BBQ Passion Barbecue Tableware made of high-quality premium porcelain features an individual touch and brings uniqueness to your barbecue party. Villeroy and Boch is constantly extending its BBQ...

A homage to Renaissance architecture – is Villeroy & Boch »Cellini«. The filigree relief embellishments are the outstanding design feature of this noble collection: Every article...

Villeroy & Boch Charles Cutlery

Beautiful design of Charles Cutlery by Villeroy & Boch captivates through its smooth lines. All flatware is made of high-quality stainless steel and comes in various sets. A 24 piece set for 6...

Villeroy & Boch Cutlery Play!

The cutlery collection »Play!« from Villeroy & Boch is the ideal companion for every day and every time of the day. Whether for breakfast, brunch with friends, lunch with the family,...

Villeroy & Boch Ella satiniert

Das Besteck »Ella satiniert« der Marke Villeroy & Boch beeindruckt durch seine schlichte Eleganz und die extravagant schlanke Form. Diese moderne Kollektion ist aus hochwertigem...

Villeroy & Boch exclusive cutlery

Since 1748 Villeroy & Boch stands internationally for sophisticated, beautiful table culture. A competence area of ​​the lifestyle brand is the topic cutlery.

Villeroy & Boch For Me White

For Me porcelain dinnerware collection by Villeroy & Boch is designed 'For You'. The round lines flatter the dinnerware collection with country style. And thanks to its cream-white colour this...

The Louis Cutlery collection by Villeroy & Boch is made of high quality stainless steel. A modern and simple design makes this flatware simultaneously modern and timeless. The cutlery sets come in...

Villeroy & Boch New Wave Caffe plain white

Simple and single-coloured white the Villeroy & Boch New Wave Caffe porcelain single-coloured white porcelain can pe combined with all the other Villeroy & Boch New Wave services perfectly....

Villeroy & Boch New Wave White

The success story took its course and continues today. With the New Wave weiß, the manufacturer has developed a collection that strongly contrasts with the classic round shapes of dinnerware...

Villeroy & Boch Oscar Cutlery

Oscar cutlery sets from Villeroy and Boch will impress you with their notable design and accurate delicacy. These sets are both timeless and classic. The distinctive forms of the Villeroy & Boch...

Villeroy & Boch Ovid Glas

Die Glaskollektion Ovid aus dem Hause Villeroy und Boch überzeugt mit einem zeitlosen Design. Die Glas-Sets für Rotwein, Weißwein, Sekt und Wasser beinhaltet jeweils 4 Gläser. Das...

Villeroy & Boch Pizza Passion

Everybody loves it, everybody eats it - of course, it is all about Pizza. Villeroy & Boch has taken these preferences into account and created a Pizza Passion line which astonishes you with...

Villeroy & Boch Soup Passion

Villeroy & Boch livens the soup culture up and devotes to this popular dish a separate collection. In the range of the Villeroy & Boch Soup Passion soup and bowl fans discover innovative and...

The bold silhouette of dune ridges shaped by the wind has given the »Vapiano« dinnerware collection a natural and organic design. »Vapiano« by Villeroy & Boch is an...

The high-quality cutlery made of stainless steel convinces through its modern and functional design. Its shape reminds of the Bauhaus style of the late 20th. The striking faceting makes this cutlery...

Villeroy and Boch Mademoiselle

Mademoiselle is a classic flatware made of high quality stainless steel. The elegant cutlery collection lends to your table a special look. The handles of the Mademoiselle cutlery...

Villeroy and Boch Pasta Passion

Pasta is a passion - the tableware Pasta Passion is devoted entirely to pasta. Discreet and with functionality presents Villeroy Boch the pasta plates in various sizes, the spaghetti plates with a...

Vivo - Villeroy & Boch Group New Fresh Collection

The New Fresh collection offers exquisite tableware for everyday use. Plates, serving dishes and bowls from the Vivo - Villeroy & Boch Group collection highlight the taste and fineness...

Zwilling Cutlery Ostfriesen

An elegant cutlery series in a classic style - that's Zwilling »Ostfriesen«. Filigree, relief-like ornaments on the handles give the cutlery a valuable and at the same time charming...

Cannot add the item to shopping cart.