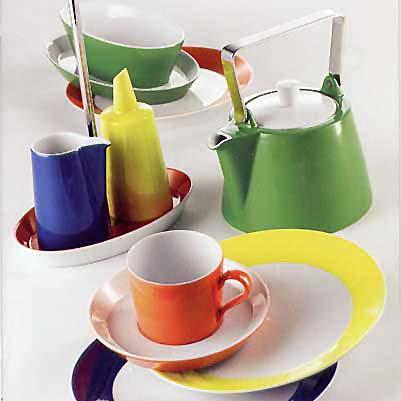 Arzberg Tric Porcelain
Since 1997 delights the Arzberg Tric Porcelain series with its variety of color and shapes. The designer Michael Sieger, born in 1963, won several design awards for this series. Straightforward, perfect in form and multifunctional are the characteristics that convince every household. Arzberg Tric porcelain is the lifestyle program of today – strong colors and confidently stylish! In addition, the multifunctional material mix of porcelain and plastic makes the series Tric innovative. The patented plastic lid for the porcelain bowls ensures always fresh food. Furthermore are the individual colors from the Tric series combinable in any way. So it is never boring on your table!
Complete your Arzberg Tric porcelain with matching cutlery, glasses or table linen!
Arzberg - a story of success
Since 1877 writes the German porcelain manufacturer Arzberg history and tells with its products a unique story of success. Arzberg "Made in Germany" started in 1887, when German porcelain products became more and more competition for the English products. The UK decided that all German brands must bear the stamp "Made in Germany" to prevent the people from buying these products. But the opposite happened. Quickly developed this stamp into an important seal of quality.
Tric the colorful all-rounder
Serving, storing, heating and much more. From now on, you need no longer many different cases with one function for these things. You have everything you need in the kitchen utensils with the series Tric by Arzberg. From coffee to dining services, from the butter dish to the pitcher. Especially the bowls with their matching plastic lids are the highlight. In them, you cannot only serve your food, but also store in the fridge, if you have leftovers. The next day you can warm your food in the microwave directly in the bowl. With the products by Arzberg Tric you get everything done without much effort.