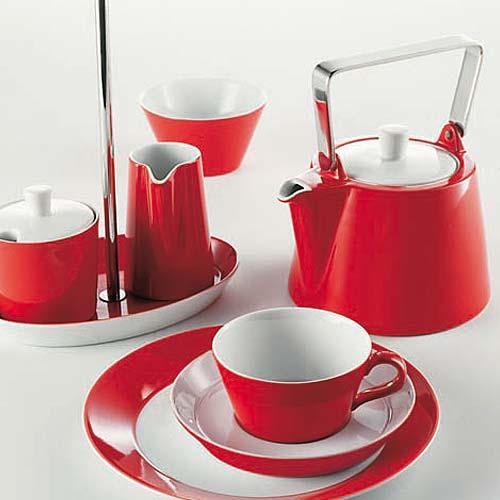 Arzberg Tric Hot porcelain - lively colours
Arz Tric Hot porcelain - where pure white is combined with intense red, creating a fresh and intriguing look which will certainly cheer you up. The white colour is traditional and rather casual, whereas the red colour, according to the colour psychology, makes you happier and increases your appetite. The combination of both colours creates a dynamic contrast which makes the whole pattern distinct. Clear and round shapes underline the smooth elegance of the Arzberg Tric Hot collection.
The 18-piece porcelain coffee set contains all necessary items for the table laid for a coffee break. Add some extra plates, saucers or cups of the same design to this set! Complete your individual set with butter dishes, warmers, sugar bowls or other table accessories.
In this pattern you can also find a lovely porcelain basic dinner set of 12-pieces. Sauce boats, bowls and plates in different forms and designs round off this porcelain collection.
The durable Arzberg Tric Hot porcelain is dishwasher and microwave safe.