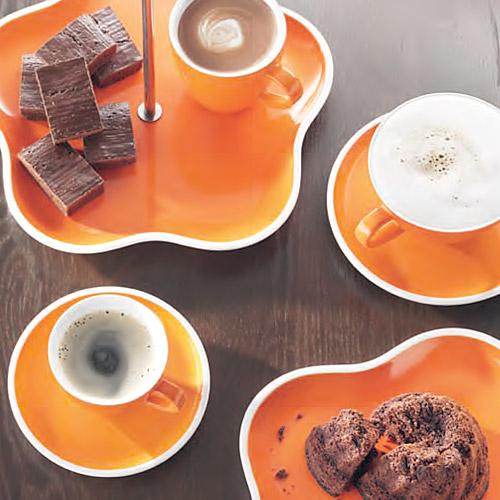 Arzberg Profi - classic porcelain with a modern look
The Arzberg Profi porcelain looks prominent not only on holiday served tables and on coffee tables but on our everyday tables. And this can be easily explained as its resistant porcelain with eye-catching and soft lines is specially designed for a professional use. This porcelain meets all the requirements to the durability and the form. That is why Arzberg Profi articles are characterized by thick walls. This porcelain reminds us of traditional ceramics tableware, classical country houses and country life. However, soft colours and fluent lines give them a modern and fresh look.
The latest Arzberg Profi collections - Lagoon, Powder or Virgin White are named after their colour. All your possible ideas and dreams can be realized thanks to Arzberg Profi tableware: you may have a holiday served table, a coffee table or a springlike breakfast table.
A perfect choice for every occasion
Timeless and with vivid design the Arzberg Profi tableware can be used in everyday life just as well as for quite special occasions. Cups, saucers, plates, jugs have the same form. They have only small differences in some collections, in most cases they vary in the the design of the cups. But on the whole, Arzberg Profi tableware remains loyal to the classical and traditional design. And, according to the design elaborated by Gretsch, it avoids using unnecessary decorations. What remains, it is the aesthetics of its pure forms. The advantage of this classical design is that all Arzberg Profi collections can be easily combined with each other.
Traditional trademark with iconic forms
The porcelain style of Arzberg was shaped in the Gretsch time, in the 1930s. Till then the company, which was founded in 1887, specialised more in manufacturing tableware of a historical style. But the spirit of a new time evoked a new form. Gretsch and his successor Löffelhardt started manufacturing porcelain of a timeless and simple style which had been a standard for many years. Thanks to its functionality and aesthetics the "form 1382" became especially famous and even won a number of the international design awards. Since the 1970s it was very difficult for the Arzberg designers to find necessary inspiration and create new styles. But in August, 2013 it became clear that the traditional brand could better survive under the guidance of Rosenthal Sambonet.