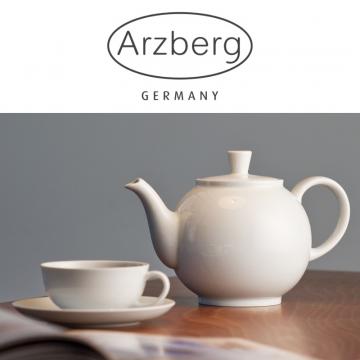 Arzberg Porzellan
Arzberg porcelain presents itself in clear shapes and contemporary design. Founded in 1887, Arzberg porcelain today stands for functional tableware in modern design. The high practicality and the different variants of porcelain from the Arzberg brand are constantly finding new enthusiastic fans. From purist tableware for everyday use to elegant tea sets and practical kitchen aids, everything is available. Clear shapes run through all Arzberg porcelain series and ensure a high recognition value. Whether plain white or the vibrant colors of Arzberg Tric, Arzberg dinnerware enriches any table. Your new tableware Arzberg we deliver of course in 1st choice.
Contemporary Arzberg porcelain for every occasion
Your Arzberg porcelain will enrich any table. Classically white or in selected bright colors, Arzberg porcelain fits into any interior style. The different designs can be wonderfully combined and put together to create your very own Arzberg dinnerware.
One of the most famous Arzberg dinnerware series is Arzberg Tric porcelain. This series by designer Michael Sieger has been part of Arzberg's product range since 1997. Several designer awards distinguish this porcelain, which has since become popular in many households. Arzberg Tric tableware inspires with its versatility and is the lifestyle porcelain of today. With the colorful Tric tableware Arzberg, it is guaranteed to never be boring on your table!